In this extract from the programme 'Folio' Stuart speaks to Patrick Gallagher about his writing, religion, fame and public ignominy.
Responding to the question as to whether his writing is religious or not, Stuart explains that he has never taken a moral attitude about anything in his work.
As for preaching. I hope I never preach in my fiction 'cos that is a disaster for fiction, for art in any case.
They go on to talk about fame and the growing popularity of his work amongst young people. For Stuart, fame breeds complacency and all kinds of things that make imaginative writing impossible. They also discuss his latest work 'The High Consistory'.
According to the RTÉ Guide
Stuart talks to Patrick Gallagher about a life in which he has seemed to welcome the role of outcast, to the point where the scaffold itself became more than a metaphor.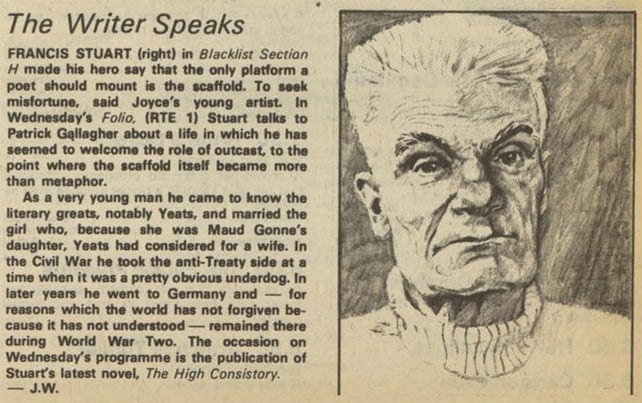 RTÉ Guide 9 January 1981
This episode of 'Folio' presented by Patrick Gallagher was broadcast on 18 January 1981.
Stuart was born in Australia in 1902. He married Iseult Gonne, daughter of Maud Gonne, when he was 17. Stuart died in Ennis Co. Clare in 2000.