Flann O'Brien is recognised as one of Ireland's most original writers as a novelist, playwright and with a column in the Irish Times for over 25 years.
The RTÉ production 'Anthology: The Worlds of Flann O'Brien' is based on material taken from Flann O'Brien's 'At Swim Two Birds' 'The Third Policeman' and 'Cruiskeen Lawn'
The programme is devised and presented by Niall Sheridan who was at college with Flann O'Brien. Produced and directed by Aindreas O Gallchoir the production includes studio dramatisations from O'Brien's work performed by Niall Tóibín, Martin Dempsey, David Kelly, Arthur O'Sullivan, Chris Curran, Des Perry, John Molloy, Eamon Morrissey, Derry Power and Jim Bartley.
In this extract Niall Tóibín introduces us to Flann O'Brien's take on the Dublin man and his use of the phrase
I wouldn't mind only..
David Kelly plays the part of the Dublin man who begins his tale with,
You heard about the mad brother in law coming home on a visit out of the British army three quarters in the jigs?
Boastful, kindly, absurdly resourceful, frequently in error but always infallible he is the monstrous epitome of a certain type of Dubliner we have all encountered.
'Anthology: The Worlds of Flann O'Brien' was broadcast on 18 November 1970.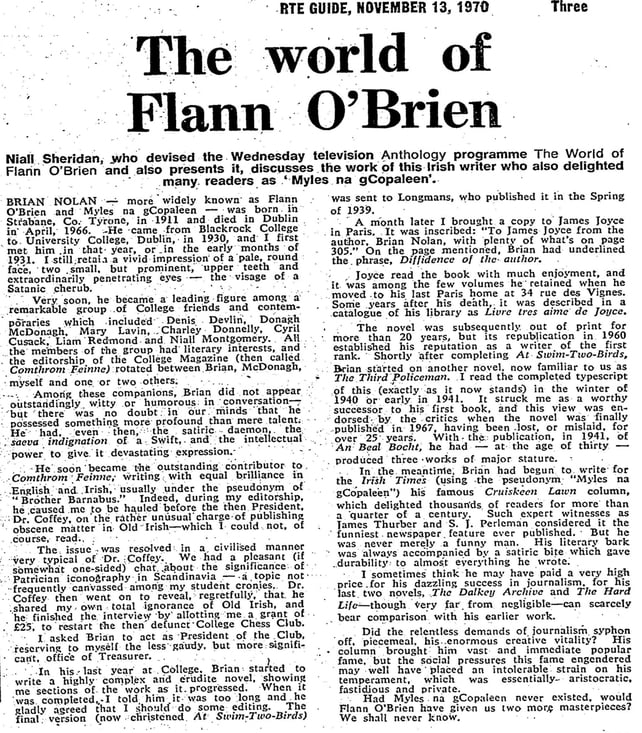 RTÉ Guide 13 November 1970 Flann O'Brien