In 'Over the Barricades' Peter MacNiff talks to writer JP Donleavy about his writings.
In this excerpt from the programme 'Over the Barricades', American-born writer JP Donleavy describes how he became interested in writing and got his first novel 'The Ginger Man' published.
A feature on the programme in the RTÉ Guide dated 7 February 1975 comments:
The author talks in a most relaxed fashion as he walks around his Irish home near Mullingar.
Although perhaps best known for 'The Ginger Man', Mr. Donleavy has published four other novels, two plays and a book of short stories since then. In addition to the interview, extracts from some of his work will be included in the programme. (RTÉ Guide, 7 February 1975, p. 10)
Donleavy comments on the encouragement he received from his contemporaries on his writings. Brendan Behan was the first to read the manuscript of his work, and provided advice. He recalls how Behan broke into his house, made amendments to this manuscript and stole his shoes. Donleavy also comments on the production of The Ginger Man at The Gaiety in 1958 and the public reaction to his work.
'Over the Barricades' was filmed at Levington Park, Donleavy's home near Mullingar, Co. Westmeath.
'Over the Barricades' was first broadcast on 10 February 1975.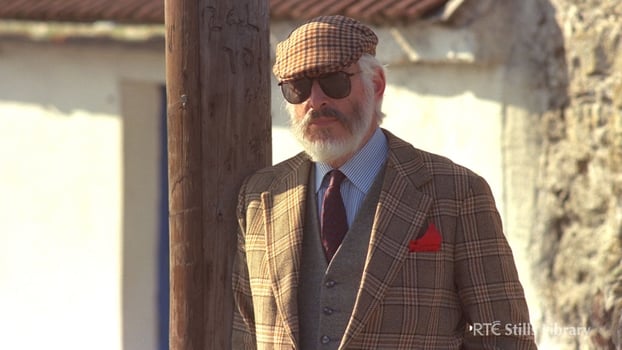 JP Donleavy (1991)