John Joseph 'Rinty' Monaghan recalls his boxing career and his love of entertaining people.
Noel Andrews meets former World Flyweight Boxing Champion Rinty Monaghan in his home town of Belfast. He remembers how his first fight as a young boy came about. The fight and his singing voice earned him some money and upset his parents.
The fight was a draw. We never hit each other just jumped around the ring. When the fight was over he asked can you sing? I said yes. I sang a song called 'Sally'
Rinty recalls fights he had against Tommy Stewart and Emile Famechon and describes a dedicated training regime that involved runs on Cave Hill, working in the docks and an evening gym session. Following his bouts Rinty Monaghan was famous for coming back into the ring to sing 'When Irish Eyes Are Smiling'
I am a happy go lucky guy. I like to see the people happy and if I am singing and entertaining I think I am making them feel happy.
Following his retirement from boxing Rinty Monaghan enjoyed entertaining the public with his singing and harmonica playing and continued to offer advice to young fighters.
Rinty Monaghan was interviewed for 'Sport in Action' by Noel Andrews. The report was broadcast on 5 March 1970.
Ahead of the broadcast the RTÉ Guide featured a piece about Rinty in which it listed his contact address as
Mr. Rinty Monaghan,

Champion of the World,

Ireland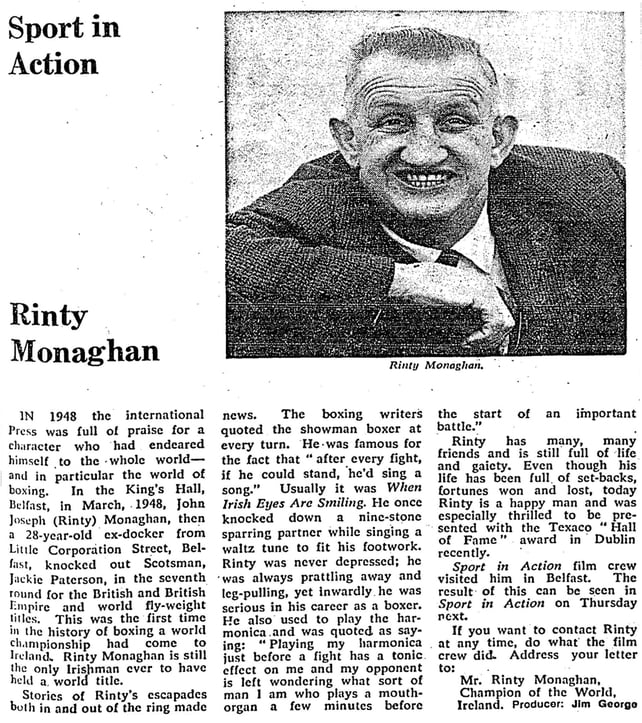 RTÉ Guide, 27 February, 1970, p.19