Glam rock comes to Dublin. English band Mud are in town to the delight of their Irish fans.
Glam rockers Mud were among a host of bands to appear in the film 'Never Too Young To Rock'. On a promotional tour the band took time in Dublin to talk about their rise to stardom and what the future holds.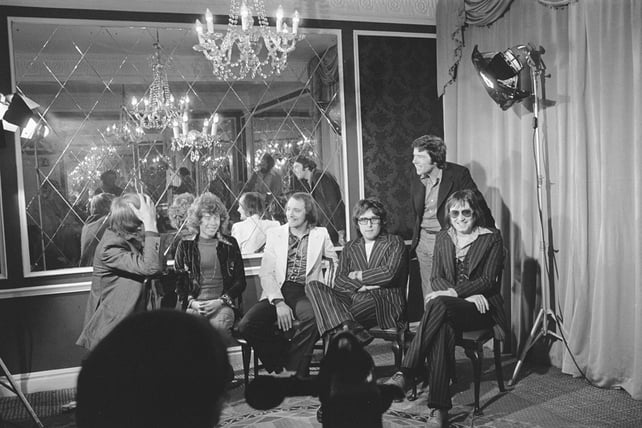 British glam rock band Mud in Dublin's Gresham Hotel in May 1975.
Tom McGurk met the band in The Gresham Hotel on Dublin's O'Connell Street and chatted to them about their pasts and how they got into music. They also provide some advice for aspiring pop stars, and talk about how fame and success have changed their lives..
Mud band members included Les Gray, Rob Davis, Ray Stiles and Dave Mount.
'Never Too Young to Rock' was written by Dennis Abey and Ron Inkpen. The film also featured The Glitter Band and The Rubettes.
The group were interviewed for RTÉ Television's summer magazine series 'Last House' and the interview was broadcast on 17 July 1975.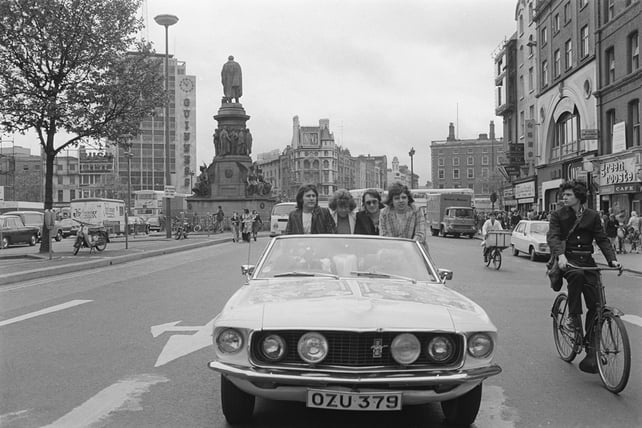 Mud driving down O'Connell Street, Dublin in May 1975.
'Last House' was an afternoon magazine show on RTÉ Television presented by Áine O'Connor and Tom McGurk.