Horslips perform 'Furniture' live at the National Stadium in Dublin.
As part of 'The Music Makers' series, RTÉ filmed Celtic rock band Horslips performing at the National Stadium in Dublin on 13 February 1973.
Tony Johnson, presenter of the music programme 'Spin Off' greets the audience of a packed National Stadium.
Hello and good evening everybody, it's my very great pleasure to introduce you to Horslips.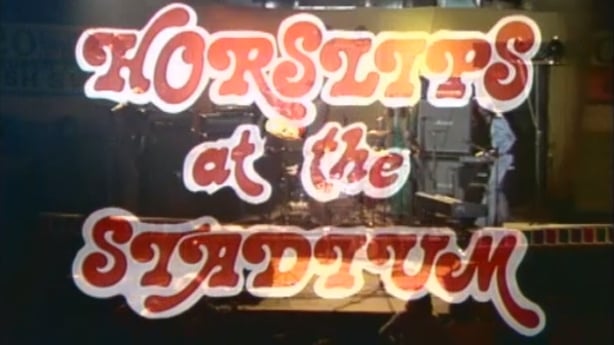 Horslips at the Stadium
The band takes to the stage and Barry Devlin the band's vocalist and bass player introduces the song 'Furniture'.
A sort of song we've been doing for quite a long time and we still like it so we're still doing it.
The song is written by band member Jim Lockhart and is
On the surface no pun intended it's all about tables and chairs, but there's deep religious, sexual and political significance in almost every word, and philosophical significance as well, at least so Jimmy says and wrote it and as nobody else understands it, he should know.
Horslips members include Jim Lockhart on keyboards and flute, Barry Devlin on bass guitar, Charles O'Connor on guitar, Eamon Carr on drums and Johnny Fean also on guitar.
'The Music Makers' was an RTÉ Light Entertainment series which featured well-known performers in both pop and jazz music.
This episode of 'The Music Makers' was broadcast on 28 May 1973. The producer is Bill Keating.