Government policy points to an all out ban on any ships containing nuclear materials from entering any Irish ports.
In 1995 the Department of Marine banned the ship 'City of Manchester' carrying radioactive material from docking in Dublin Port. The ship was carrying 310 tonnes of uranium ore concentrate from Portugal to Sellafield. The ships agents described the cargo as perfectly harmless. However, the Department of the Marine said that the decision was totally in line with government policy.
This was followed by a complete ban on any ships carrying radioactive materials from all Irish ports.

Eamon Gilmore, Minister of State for the Marine commented on the ban.
We have a very clear view that the British Nuclear Industry, Sellafield and Thorp in particular, poses a major threat to the Irish people... We are not going to facilitate the transportation of nuclear materials... and vessels carrying nuclear materials.... will not be permitted to dock at any Irish port.
Opposition TD Eoin Ryan described the ban as a public relations exercise by the government, while the move was welcomed by Dublin's Lord Mayor Councillor John Gormley.
An RTÉ News report by Peter Cluskey broadcast on 21 April 1995.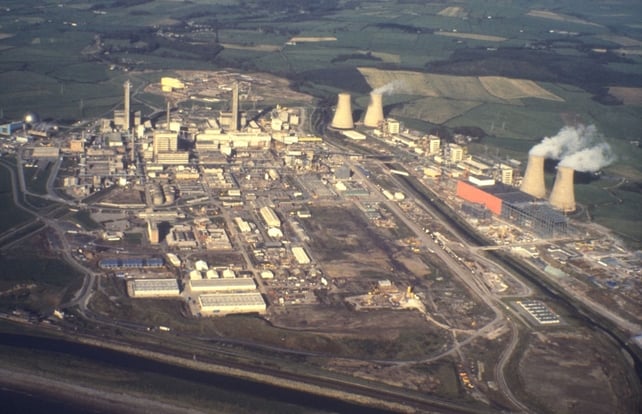 Sellafield (1985)