Ernest Gebler talks to Andy O'Mahony about his new play 'Call Me Daddy' during rehearsals at The Project.
In April 1975 'Over the Barricades' reported on 'Call Me Daddy', a play by Czech-Irish writer Ernest Gebler at the Project Theatre in Dublin.
In the play, Kevin McHugh plays Hoffman and Leslie Lalor plays Miss Ryan, the typist. The production was directed by Eamon Morrissey with the set design by Gerry O'Sullivan.
During a break from rehearsals, Andy O'Mahony asked the author Ernest Gebler about his work. Gebler explained what the play is about and how women are practical while men are romantics.
It's the difference between the fantasy and the absurd romantic.
This report from 'Over the Barricades' was broadcast on 21 April 1975.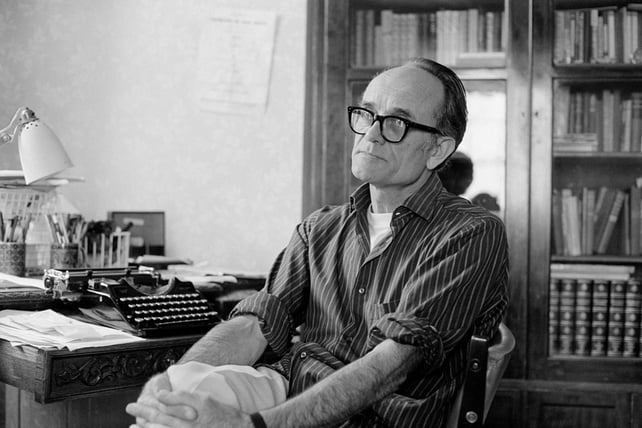 Ernest Gebler (1971)
Broadcast in 1975 'Over the Barricades' was a series focusing on the arts. The programmes's brief was to examine drama, literature, music, painting and everything connected with the arts.
In an article for the RTÉ Guide (17 January 1975) the series producer Colm O'Briain said that,
The majority of people have inhibitions about the arts. They feel that most artistic events or material are above them, that there is a barrier between them and the arts. I would like through this programme to introduce them to the arts and to see if they can enjoy and even get to like them. We will be looking at everything that is happening on the current arts' scene. We want also to encourage and reflect the general awareness of the arts that one finds in many parts of Ireland at present.