Father and son find what is being called the "archaeological find of the century" with the help of metal detector.
One of the most important archaeological hoards is discovered on a site in County Tipperary.
On 17 February 1980, the Derrynaflan Chalice was found in Tipperary. We take a look back 35 years at an interview with Michael Webb who, along with the help of his son (also Michael) , describes how they discovered the chalice. Webb's identity remained a secret since the discovery was made over two months previously.
The chalice was discovered on a monastic site at Killeens bog in Derrynaflan, Co. Tipperary. While the silver chalice is often compared to the Ardagh Chalice, it is generally thought to be less ornate. The discovery of the chalice was part of a hoard consisting of a large eight-century paten, an eighth-century liturgical strainer, and an eight to ninth century bronze basin. It is thought that the hoard was buried in the ninth or tenth centuries by Viking raiders.
The Derrynaflan Chalice is on display in the National Museum in Ireland.
An RTÉ News report broadcast on 1 May 1980. The reporter is Don McManus.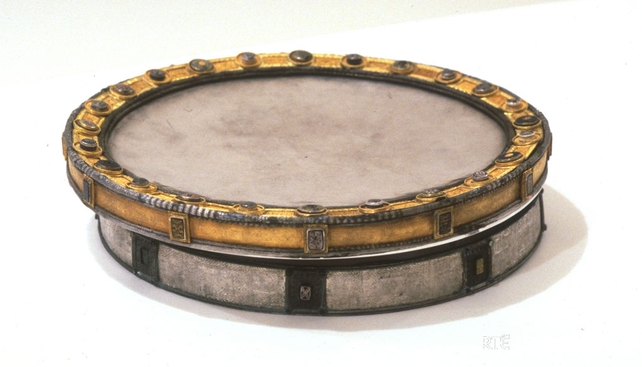 Derrynaflan Paten and Stand