Three candidates in the 1918 general election recall how they came to stand for Sinn Féin and become members of the first Dáil.
Ernest Blythe, Robert Barton and James Ryan describe what motivated them to stand for election in 1918. All three were chosen as Sinn Féin candidates and were subsequently elected to the first Dáil (Irish parliament).
Ernest Blythe who stood for election in North Monaghan despite only having been in the county once describes how his political backing came from Monaghan men held in Belfast prison.
Without knowing practically anybody in the county, I was selected and elected.
Robert Barton a farmer and former Captain in the British Army stood in East Wicklow says his nationalist sympathies were with his employees who were descendants of those who were shot in 1798.
James Ryan was initially surprised when he was asked to stand for Sinn Féin in East Wexford. .
They wanted to make sure that there could be no misunderstanding that they were putting up a republican and therefore they wanted a person that fought in Easter Week.
An Chéad Dáil was broadcast 20 January 1969. The presenter is Patrick Gallagher.
The first meeting of Dáil Éireann took place in the Round Room of the Mansion House on 21 January 1919. To honour the 50th Anniversary of this historic assembly the first sitting of the Dáil for 1969 also took place in the Round Room of the Mansion House. RTÉ marked the 50th anniversary of this event with programmes on radio and television. The first ever live broadcast of the Dáil in session on radio and television was part of this output.
In 'An Chéad Dáil 1919' ten of the twelve surviving Sinn Féin deputies who were returned in that election talk about the first assembly and the work it did. The programme was produced by Aindreas Ó Gallchóir and broadcast on 20 January 1969.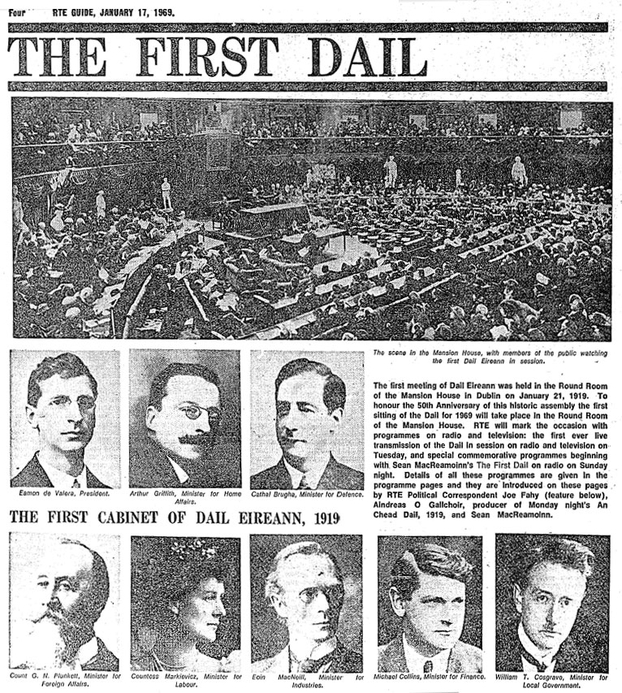 RTÉ Guide, 17 January, 1969.