Deputies return to the Mansion house for a special sitting of the Dáil at the venue where it first met on 21 January 1919.
Honouring the 50th Anniversary of this historic assembly the first sitting of the Dáil for 1969 takes place in the Round Room of the Mansion House with a special sitting of constituents of the Oireachtas, the President, the Dáil and the Seanad.
This excerpt from the ceremony shows the arrival of President Éamon de Valera who takes his seat on the platform surrounded by the surviving members of the first Dáil.
Five members of the first sitting were also in attendance along with six other members of the first Dáil who were not able to attend as they were imprisoned. These included Joseph O'Doherty, P.J Ward, Dr James Ryan, Robert Barton, Richard Mulcahy, Ernest Blythe, Seán MacEntee, Dr Brian Cusack, Alasdair Mac Cába, Padraig O'Keefe and President Éamon de Valera. Sean Nunan, who had acted as a clerk to the Dáil in 1919, is also present.
The entire ceremony was conducted in Irish and following a prayer by Ceann Comhairle Cormac Breslin, normal Dáil business began with the introduction of four Bills.
Taoiseach Jack Lynch introduced the Holycross Abbey Bill to enable the Commissioners of Public Works to restore Holycross Abbey in Tipperary. Minister for Social Welfare Mr Brennan introduced a Bill to extend the system of social insurance to proved for retirement and invalidity pensions and death grants. Minister for Industry and Commerce Mr Colley introduced the Merchandise Marks Bill and Minister for Health Mr Flanagan introduced the first stage of the 1969 Health Bill.
Following the normal order of business, the Ceann Comhairle called on President de Valera who was greeted with a standing ovation as he stood to give his speech. There was an interruption during his speech when 1916 veteran Joe Clarke protested that the commemoration was a mockery since the programme of the First Dáil had not been implemented. However, Mr Clarke was quickly removed from the chamber and the President continued his speech.
President de Valera's address was followed by a moments silence as a mark of respect to the members of the first Dáil.
An Chéad Dáil 50th Anniversary was broadcast on 21 January 1969. The presenter is Seán Duignan.
This was the first time that RTÉ Radio and Television broadcast live coverage of a Dáil session.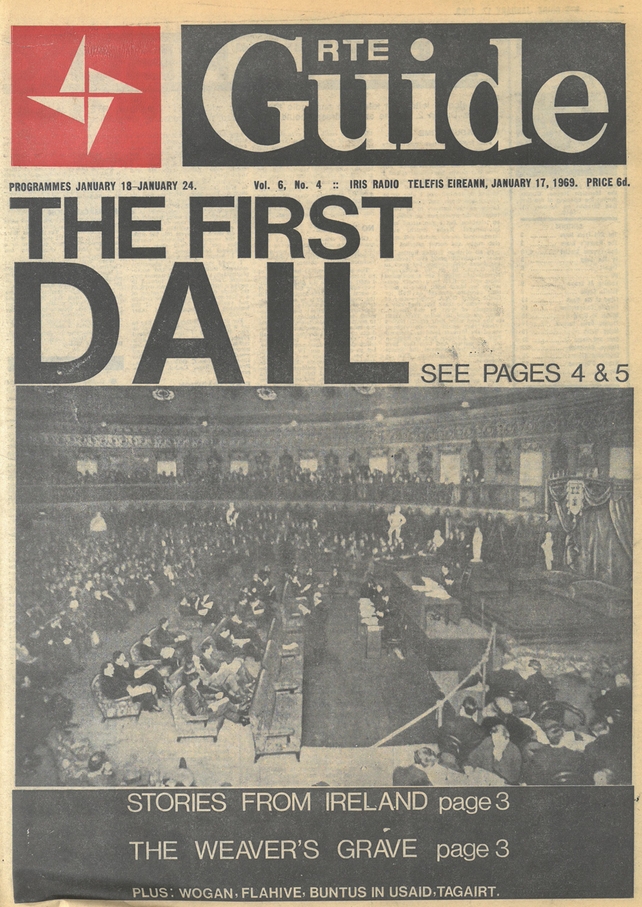 First Dáil RTÉ Guide Cover, January 1969