Tony Blair is the first British Prime Minister to address the Irish Houses of Parliament.
Tony Blair was greeted upon his arrival at Leinster House by Taoiseach Bertie Ahern along with other Dáil party leaders.
The Dáil chamber itself was crowded as Mr Blair arrived to a standing ovation.
Ceann Comhairle Seamus Patterson told The British Prime Minister that the strong sense of Ireland's parliamentary democracy owed much to the bedrock of the British parliamentary tradition. He also noted that Ireland has adopted the best but not all of the British system.
We have PR but we do not have hereditary membership.
Addressing the chamber, Tony Blair recalled the turbulent history between Ireland and Britain but is optimistic for the future and peace in Northern Ireland.
Time for the gun and the threat of the gun to be taken out of politics once and for all.
The Prime Minister emphasised the need for different traditions to understand each other if relationships between the Republic of Ireland, Northern and Great Britain are to move forward.
Those urges to belong, divergent as they are, can live together more easily if we, Britain and the Irish Republic, can live closer together too.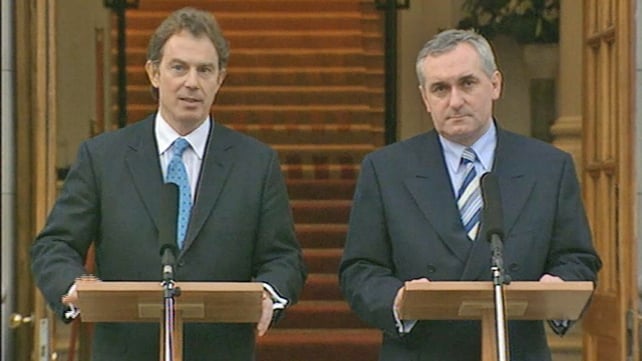 British Prime Minister Tony Blair and Taoiseach Bertie Ahern outside government buildings (1998)
Both the Taoiseach and the Prime Minister addressed the media outside government buildings on the continued cooperation between the two countries to strive for peace in the North.
An RTÉ News report broadcast on 26 November 1998. The reporter is Donal Kelly.