President Clinton and his wife Hilary visit the site of the Omagh bombing.
American President Bill Clinton and his wife Hilary and and British Prime Minister Tony Blair and his wife Cherie pay personal tributes to the families of the victims of the Omagh bombing.
The atmosphere was sombre as President Clinton and his entourage arrived in Omagh to share in its people's grief.
At the site of the bomb explosion, President Clinton and Prime Minister Blair unveiled a plaque dedicated to the memory of those who lost their lives. President Clinton went on to meet the people of Omagh and was warmly welcomed.
On Saturday 15 August 1998 a car bomb exploded in Omagh, County Tyrone killing 29 people and injuring hundreds more.
An RTÉ News report broadcast 3 September 1998. The reporter is Michael O'Kane.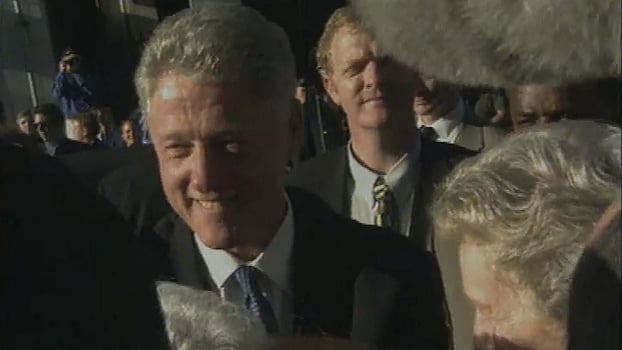 Bill Clinton greets the crowds in Omagh, 1998.