The route of a Civil Rights march in Omagh is met with a blockade by a large group of Paisleyites.
A demonstration for Civil Rights in Omagh on a Saturday afternoon is attended by more than 1000 marchers.
There was tension created when supporters of the Reverend Ian Paisley gathered in Market Street in large numbers, blocking the planned route of the demonstration.
Four hundred police officers were brought into the Tyrone town for the occasion. A police cordon holds back the counter-demonstrators, and a detour taken by the marchers means arrival at their destination Omagh Courthouse is orderly and uneventful.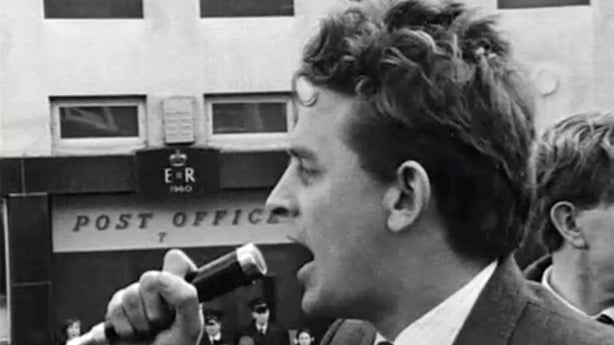 Austin Currie Addresses Omagh Civil Rights Demonstration (1969)
Austin Currie MP addressed the demonstration praising the conduct of those taking part.
This victory today is all the more sweet because it has been done true to the ideals of the Civil Rights campaign, that ideal of nonviolence.
Other speeches on the day were provided by Ivan Cooper MP, Patrick Fahy, Chairman of the Omagh Civil Rights Committee, Eamonn McCann of Chairman of the Derry Citizen's Action Committee, Claude Wilton, Derry Citizens Action Committee, Michael Farrell, the Peoples' Democracy leader.
An RTÉ News report broadcast on 12 April 1969.