A historic day for Northern Ireland and the Republic of Ireland, as the Good Friday Agreement is agreed in Belfast.
Shortly before 6pm Taoiseach Bertie Ahern and British Prime Minister Tony Blair emerged from Stormont buildings to inaugurate this historic agreement.
In his praise of the work carried out by Bertie Ahern and all the parties involved, Tony Blair paid tribute to all who had lost their lives in the conflict, suggesting that the nature of today's deal would change relationships in Northern Ireland forever.
The principle of consent is absolute, and is throughout the agreement. And the breakthrough is that that is now accepted by all, north and south. Also, those who believe in a united Ireland can make that case now by persuasion, not violence or threats.
The Taoiseach echoed this view,
My ultimate political aspiration remains. The coming together of all the people of Ireland, achieved peacefully and by consent. I value deeply the close relationship between the Irish government and the British government. But I look forward equally to a new era of friendship and reconciliation between unionists and nationalists, in which each tradition can learn truly the value of the other.
The joy was palpable, as was the feeling of relief that these difficult set of negotiations had come to an end.
And as they said their farewells, it was acknowledged by all present that this agreement could not have happened without the commitment of Senator George Mitchell, and the persistence of others.
An RTÉ News report broadcast on 10 April 1998. The reporter is David Davin-Power.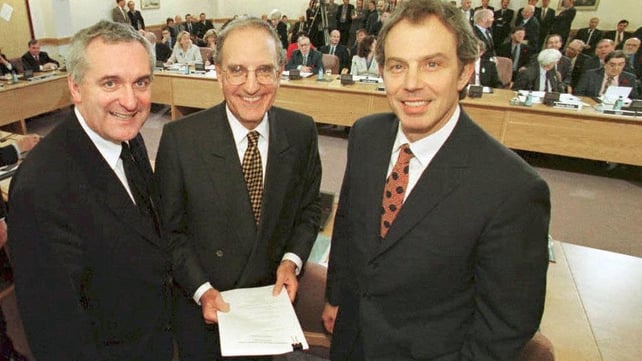 An Taoiseach Bertie Ahern , US Senator George Mitchell, British Prime Minister Tony Blair