Farmers queue at the Victorian Dublin Fruit and Vegetable Market in the hope of getting a good price for their produce.
The Fruit and Vegetable Market in Dublin's north city centre was established in 1892.
The market has remained virtually as it was when it was first designed.
There are some inefficiencies with the market in relation to the lack of grading of goods which results in poor confidence from both buyers and sellers. A further setback is the length of time it takes for the farmer or supplier to get their products to the market.
Donabate farmer Joe McDermot arrives by tractor to sell his produce at the market.
The present system of trade for fruit and vegetables in Dublin will make it very difficult to compete in the Common Market.
This episode of 'On the Land' was broadcast on 12 November 1962. The reporter is Pat Jennings.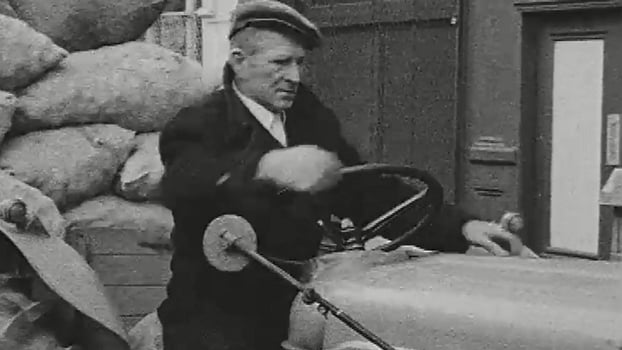 Farmer Joe McDermott (1962)
'On the Land' was a weekly programme for farmers broadcast from 1962 to 1971. Jack White, Head of Public Affairs, Teilifís Éireann, wrote, "Good cover of farming is a basic duty for a television network that serves an agricultural country. Teilifís Éireann is anxious to do its bit to make for a better life on the land.
(RTV Guide, 9 February 1966. Vol.1, No.11, p.6)