The Dublin fruit and vegetable market is to be redeveloped as a continental style food market.
A plan to redevelop Dublin's Victorian fruit and vegetable market on Mary's Lane, located between Capel Street and the Four Courts, has received the backing of local councillors.
Market Wholesaler Justin Leonard's family have traded in the market since it opened in 1892. He is convinced the ornate Victorian building has great potential.
The Corporation and Dublin city have this gem, this nugget, right in the heart of Dublin city and yet for years and years if you asked nine out of ten Dubliners where the Corporation fruit market was, they wouldn't be able to tell you.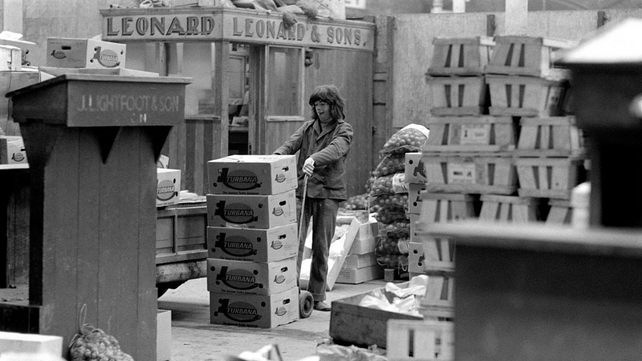 Market wholsalers Leonard and Sons in 1973.
Redevelopment plans preserve the building and other parts of the site will be converted into a modern shopping and dining facility.
David Brennan of, Dublin City Business Association is keen to see the development of market.
If the market becomes a generator of business and footfall, the entire area will benefit.
The redevelopment will undoubtedly bring new indigenous and innovative businesses to the vacant buildings in the area. Dublin City Council estimates the new retail and wholesale market has the potential to service 80,000 people in its vicinity.
An RTÉ News report broadcast on 11 March 2014. The reporter is John Kilraine.