A look around the stalls in the Dandelion Market Dublin and a quick chat with some of the stall holders.
In 1970, the Dandelion Market opened on Pembroke Lane in Dublin before moving to Leeson Close in 1971 and then in 1973 to a disused warehouse next to Saint Stephen's Green where it remained for 11 years.
Popular with tourists and Dubliners alike for its vintage clothing, accessories, furniture, music and much more, the market was also where you could find buskers entertaining shoppers as the browsed the stalls. The Dandelion Market was also the venue for one of U2's first gigs.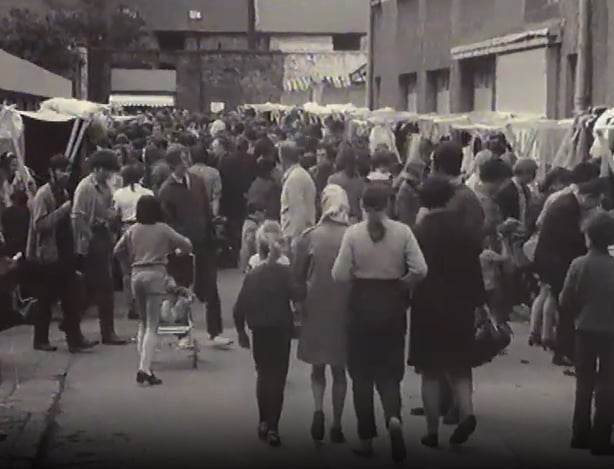 One trader attempts to attract custom announcing
Only bargains on this stall
Another stall holder says he learnt the trade at the Portobello Market in London.
Everything is available at the Dandelion Market, from paintings to knitwear, lamps to record players.
The Dandelion Market, which closed in 1981, stood on the location of the current Saint Stephen's Green Shopping Centre.
The '70s Scene' broadcast on 22 June 1970. The reporter is Eileen O'Mara.
The 70s Scene was a magazine programme for women and featured slots on food, health, fashion and lifestyle. In the RTÉ Guide on 24 April 1970 Eanna Brophy commented
The lateness of the showing time will mean that busy wives and mothers will be finished with the dishes and the children, and have time to sit back and enjoy the programme. Their husbands will probably enjoy it too.