Workers put the final touches to the first motorway in Ireland ahead of the official opening by Tanaiste Dick Spring just days away.
The Naas motorway bypass will soon become a familiar route for travellers from Dublin to the south west of Ireland. At a cost of just over £18 million for a stretch of 5 miles of road, the road has been completed a year ahead of schedule and the project is being heralded as a milestone in the country's road construction programme.
The new motorway is expected to relieve the town of Naas of about 12,000 vehicles every day. There is also good news for drivers as the proposed toll charges have been abandoned by Kildare county council.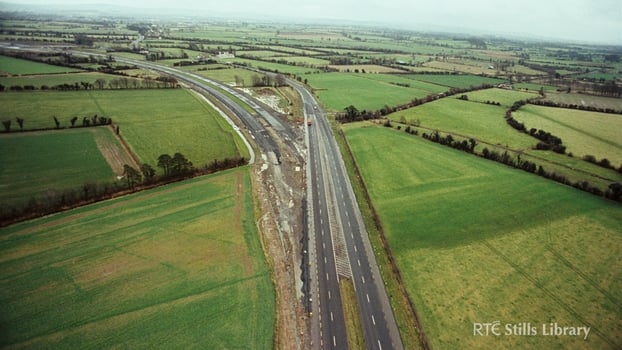 An aerial view of the Naas bypass in County Kildare, shortly before completion, in January 1983. The photographer was Des Gaffney.
An RTÉ News report broadcast 2 October 1983. The reporter is Charlie Bird.