Cathal O'Shannon visits Dunboyne in county Meath for the annual circuit motor race. The event first began in 1957 but is now under threat from the authorities on grounds of being dangerous.
The Dunboyne Circuit is a four-mile triangle of public roads which once a year becomes a race track for up to thirty cars. The four-mile course has been lapped in 2 minutes 15 seconds. That's 105.88 mph and on some stretches, cars have reached over 150 mph. For two days each year, the roads are closed to all but the racing drivers.
Since 1964 there have been four experienced drivers killed during the races and Dunboyne County Council is coming under increasing pressure to put an end to the race on grounds that the track is not fit for purpose and is dangerous.
Cathal O'Shannon asks why do people spend thousands of pounds on high powered racing cars.
Why do they risk their lives just for speed?
Racing began on the Dunboyne Circuit in 1957 under National Competition Rules governed by the Royal Irish Automobile Club and promoted by the Leinster Motor Club. Prior to this, the Leinster Club held its races in Wicklow but the circuit there was closed down as a result of local opposition. Now there is a weight of official opposition in county Meath, not from the local people but from the experts. The Meath County Council is the authority which grants the order to close the roads for the race over two days each year. This year, the county engineer and the county manager along with the department of local government and the commission of the Garda Síochana, have urged the council to refuse this permission because they argue that the circuit is unsuitable for purpose and dangerous.
Meath County Council voted and said let them race on.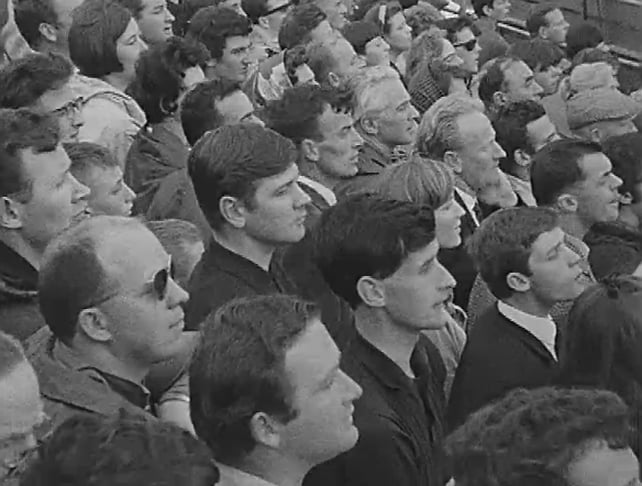 Spectators at the Dunboyne Circuit (1967)
Senator Jack Fitzgerald proposed that the racing should continue, despite acknowledging that there is a danger. He spoke to Cathal O'Shannon about the event and his reasons for supporting it.
Nobody asks anybody to take part in the motor races. They take part in the motor races of their own free will.
This episode of 'Newsbeat' was broadcast on 28 February 1967. The reporter is Cathal O'Shannon.
1967 was the final year of the Dunboyne Circuit.