A plaque dedicated to the memory of Easter Rising leader Seán Mac Diarmada is unveiled in Dublin.
Following a commemorative mass at the Church of the Holy Trinity at Dublin Castle a plaque was unveiled at number 12 D'Olier Street in Dublin by President Éamon de Valera. Seán Mac Diarmada had spent years working from a small office here as editor of the monthly newspaper 'Irish Freedom'.
The inscription reads,
Here was the office of
Seán Mac Diarmada
Manager "Irish Freedom" And "Nationality"
Secretary Supreme Council And Military Council, IRB
Signatory Of 1916 Proclamation
Executed By The British 12 May 1916
Ereced By His Friends
The plaque was erected by an organising committee which included Joe O'Doherty, Harry Nichols, Dr James Ryan, Eamonn Dore, Eamonn Dore Junior, Denis MacCullough, Alisdair McCabe, Cathal O'Shannon, Liam O Briain, Frank Daly, Tom O'Reilly, Richard Mulcahy, Mrs Seán T O'Kelly, Miss Carrie Daly, Mrs Richard Mulcahy and Mrs PJ Ruttledge.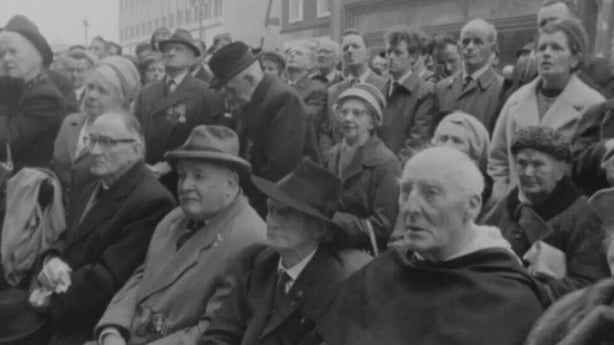 Republican and revolutionary leader Seán Mac Diarmada was one of the seven signatories of the Proclamation of the Irish Republic. He was executed at Kilmainham Gaol for his part in the Easter Rising on 12 May 1916.
An RTÉ News report broadcast on 23 April 1967. The footage shown here is mute.