Ireland becomes the first country in the world to bring in same-sex marriage by a popular vote.
On 22 May 2015 a referendum took place in Ireland to amend the Constitution over the legalisation of same-sex marriage. 62.07% of the electorate voted in favour of the amendment.
Votes in favour of the proposal 1,201,607
The amendment to Article 41 of the Irish Constitution meant that,
Marriage may be contracted in accordance with law by two persons without distinction as to their sex.
The results of the vote were confirmed the day following the referendum on 23 May 2015.
David Davin-Power reports from Dublin Castle where thousands turned out for the official announcement of the results. There was overwhelming support for the referendum outcome from politicians and equality campaigners.
Senator David Norris, who had been campaigning for equality almost all his adult life, said,
I'm very proud to be Irish.
Senator Katherine Zappone, accompanied by her wife Ann Louise Gilligan who she had married legally in Canada, said,
I'm feeling emotional from the top all the way down to my toes.
Taoiseach Enda Kenny described the Irish people as generous, compassionate, bold and joyful.
Yes to inclusion, Yes to generosity, Yes to love, Yes to Equal Marriage.
Tánaiste Joan Burton said,
We've chosen to create a more compassionate and egalitarian constitution.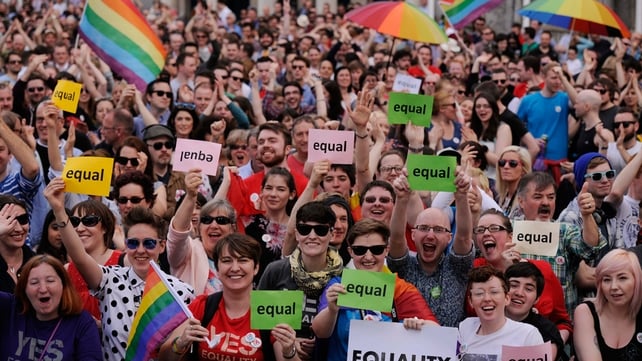 Marriage Equality Referendum Results at Dublin Castle, 23 May 2015.
Minister for Health Leo Varadkar thanks everyone who came out to support the LGBT community.
For me it wasn't just a referendum. It was more like a social revolution.
Almost every constituency backed the introduction of same-sex marriage apart from Roscommon-South Leitrim where 51.4% of the electorate voted No.
All parties in Dáil Éireann had backed a Yes vote.
Fianna Fáil leader Micheal Martin described the result as a reaction against inequality.
As the votes were being counted it became apparent that it would be a substantial Yes vote with Senator Rónán Mullen, who opposed the bill, acknowledging a victory for the Yes campaign.
An RTÉ News report broadcast on 23 May 2015. The reporter is David Davin Power.