Dublin's Gay Pride Parade and Ireland's gay community have progressed in 25 years but same sex marriage is still a right to be achieved.
The theme of the 2008 Gay Pride Parade in Dublin is 'Always the Bridesmaid, Never the Bride', reflecting the community's campaign for full marriage rights for gay couples.
A splash of colour on an otherwise dreary day in the capital.
The dreary Dublin weather failed to dampen the spirits of the thousands of people who turned out to celebrate Gay Pride. The parade has come a long way since its humble beginnings in 1983 when homosexuality was still a criminal offence in Ireland. Much has been achieved but the gay community says there is more still to be realised.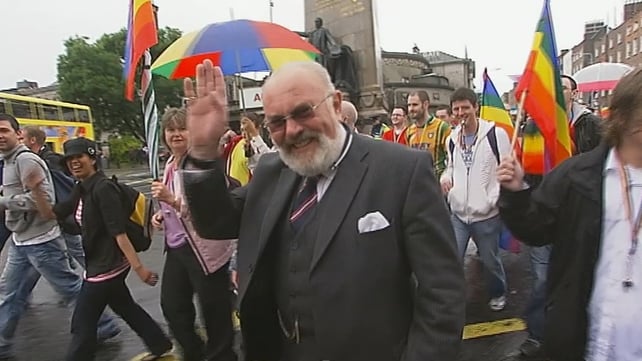 Senator David Norris, Gay Pride Dublin (2008)
Frank Cleary Dublin Pride Committee Chairman describes the parade as a celebration of gay rights.
The mood is upbeat for Shirley Temple Bar who says,
We've dealt with worse than rain in our day.
Amy O'Keefe of the Dublin Pride Committee says that the parade serves to highlight the fact that gay people are being discriminated against.
We don't have equal rights right now and we want them.
While a Civil Partnership Bill is currently being finalised which will allow same-sex couples to avail of rights similar to married couples, it will still fall short of full marriage, something which the gay community is intent on seeing through.
An RTÉ News report broadcast on 21 June 2008. The reporter is Brian Finn.