Holy Cross Abbey has been restored and is now a parish church.
Three thousand people gathered for the reopening of the 800 year old abbey near Thurles in County Tipperary.
Welcome to the Parish of Holy Cross
A procession of altar boys and monks moves from the old parish church to the restored abbey of Holy Cross to the sound of the Vexilla Regis hymn accompanied by the ringing of the Saint Gabriel bell.
The Abbey of Holy Cross was founded 800 years ago to house a fragment of the True Cross given to the O'Briens of Thomond by Pope Pascal II. The abbey and the relic were entrusted into the care of the Cistercians
Following the Cromwellian invasion in the 17th century, the Abbey fell into ruin.
The crumbling remains have now been restored and the bells of the abbey once again ring out.
Holy Cross is once again a living abbey.
Holy Cross Abbey was formally reopened at a ceremony attended by dignitaries of church and state.
Work began on the restoration four years ago costing around £300,000. The reopening is being hailed as Ireland's contribution to the European Architectural Heritage Year.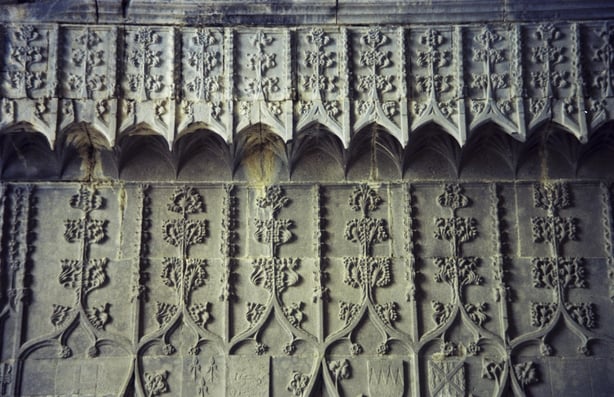 Inside Holy Cross Abbey
A close-up of some ornate stone carving in Holy Cross Abbey.
Those in attendance at the ceremony included the Papal Nuncio, Most Rev Gaetano Alibrandi, Archibishop Dermot Ryan of Dublin, Archbishop Joseph Cunnane of Tuam, Bishop Eamonn Casey of Kerry, Bishop Cornelius Lucey of Cork, Bishop Michael Harty of Killaloe, Bishop Jeremiah Newman of Limerick and Bishop John Aherne of Cloyne, as well as government ministers and the Ceann Comhairle. Leaders of the opposition Jack Lynch and Charles Haughey and the Church of Ireland Bishop of Cashel and Waterford Right Rev John Armstrong were also present.
The concelebrants of the mass were Archbishop Morris, Bishop Michael Russell of Waterford, Bishop Tomas Ryan of Clonfert, Right Rev Dom Colmcille O'Toole the Abbot or Roscrea Abbey, Right Rev Dom Augustine O'Sullivan Abbot of Glenstall Abbey and Fr Patrick Lynch, Parish Priest at Holy Cross.
A relic of the True Cross was also brought to the Holy Cross Abbey for the occasion and part of it will now be kept in the reopened church.
'Celebration of the Restoration of Holy Cross' was broadcast on 5 October 1975. The presenter is Billy Fitzgerald.