Does the Catholic Church need to build new large expensive churches that are empty and unused for most of the week?
A debate has arisen in the Catholic Church over whether to build large expensive architecturally elaborate churches or smaller simpler ones.
Some of the new churches built in Ireland over the last few years have come at a high price often with no expense spared.
Nothing was too good for the house of God.
One of the most expensive new church builds was Our Lady of Consolation in Donnycarney, which was built at a cost of £260,000, to replace the previous church which was little more than a corrugated shed. Described as a modern interpretation of the gothic style and liturgically up to date.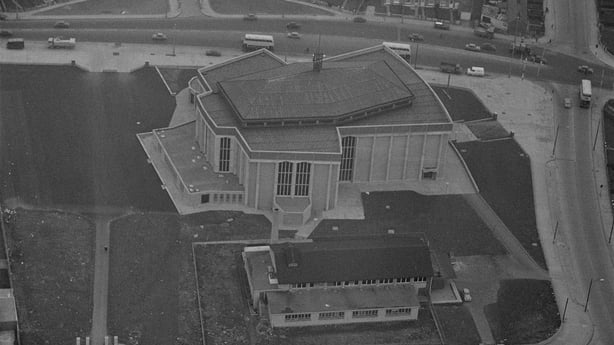 Our Lady of Consolation in Donnycarney
Donnycarney it is said fulfills the modern liturgical concept of unity between the church and the laity.
While there are many new churches, it is argued by some that the new buildings are in direct conflict with the new liturgy. A smaller church would be more modest and provide a sense of togetherness. However, the hierarchy within the church sees no such conflict.
The archbishop has described Our Lady of Victories in Ballymun, which can seat almost two thousand people and cost £220,000 to build, as a worthy attempt to interpret the directions of the Second Vatican Council. However, the question arises as to whether it would have been more appropriate to build two or three smaller churches in Ballymun, as happened with The Twin churches of Kilmore Road.
As a result of the high expenditure on church buildings, it is estimated that the Dublin Diocesan debt is now at seven and a half million pounds. The argument is made that this money may have been better spent.
Dominican Father Paul Hynes believes the new churches are too elaborate and all that is required is a meeting place with a roof. He believes that it should be possible to build a church for between fifty and sixty thousand pounds.
This episode of 'Seven Days' was broadcast on 17 April 1970. The reporter is Denis Mitchell.