Concerned with low marriage rates in rural Ireland the Catholic Church looks at ways to help farmers find a wife.
Young farmers attending Glenamaddy Vocational School in County Galway take part in an etiquette class schooling them in how to take a woman on a date. This sort of intervention is necessary in rural Ireland, particularly in the west, where the number of marriages continue to fall.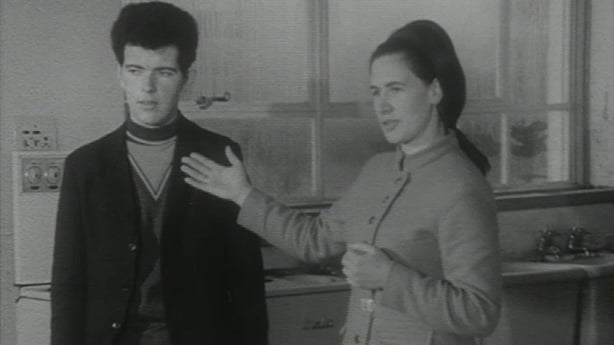 The story of Jimmy Glynn is a textbook case of what can happen to a man who lives with his parents on a small farm. When Jimmy inherited the farm after the death of his parents he was already a middle aged man and life seemed to have passed him by. A typical country bachelor, Jimmy is unable to cook a meal for himself and lives on tinned food and instant potatoes.
Many rural women have left the countryside for jobs in Dublin. A number of them are enjoying city life and have no intention of returning home to live as a farmer's wife.
I don't think I would like it, I've got used to Dublin.
The Lisdoonvarna Festival takes place every September and provides farmers with plenty of opportunities to meet potential wives.
It has come to be regarded as the marriage market of rural Ireland.
For those too shy to attended dances and social events, the art of matchmaking has been revived in the west of Ireland. However the matchmaker is not a local farmer. but a local priest.
Father Michael Kane is known locally as 'The Cupid of the West' and is the driving force behind the Knock Shrine Marriage Bureau. He encourages young people to mix together and even schools them in how to behave at a local dance so they might find their perfect match.
Between 1961 and 1996 'Radharc' produced over 400 films in Ireland and seventy five countries worldwide. The films dealt with issues of human rights, injustice, faith religion, persecution, struggles against oppressive regimes, famine and Christian heritage.
'Radharc : The New Matchmakers' was first broadcast on 2 November 1969. The reporter is Father Peter Lemass.