The Irish government plans to close the Irish Embassy in the Vatican in an effort to save money.
The announcement was made by Tánaiste and Minister for Foreign Affairs Eamon Gilmore who pointed to the poor economic return of the Embassy in the Vatican as the key reason for its planned closure. Mr Gilmore also said that the decision had no relation to the recent controversy with the Vatican over the publication of the Cloyne Report. The Irish government would now seek approval from the Vatican for the appointment of a non-residential ambassador.
In response the Vatican issued a statement stating that every country with which it had diplomatic relations had the right to have an ambassador in the Vatican or overseas, and said that
Diplomatic relations between the Holy See and Ireland are not in question.
Fianna Fáil TD Charlie McConalogue described the government's decision as short-sighted and that the cost saving would be small and detrimental to international relations for Ireland.
The Embassy in Tehran and a representative office in East-Timor would also close under the cost saving mechanism.
An RTÉ News report broadcast on 3 November 2011. The reporter is Joe Little. The report was introduced by Bryan Dobson.
This report includes footage from the 1932 Eucharistic Congress held in Ireland. (c) Paramount Film.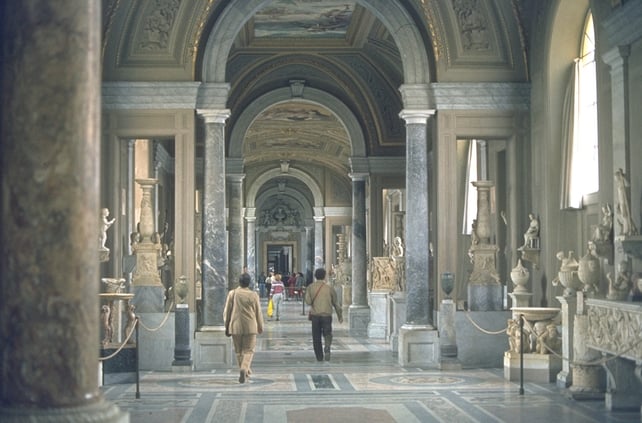 Vatican Museum