Tralee Hospital finally opens but has been mired in political and financial controversy since it was first planned.
First planned in 1974 building work on Tralee Hospital began in 1978 with a price tag of seven million pounds. By the time construction was complete the cost had increased to £25 million. Once finished, the government found that it did not have the money to equip the building and it lay unused for a year and a half.
It's a hospital which hasn't lacked for political attention.
Throughout its construction, the hospital has seen many political figures come and go. The building project was first approved by Labour Party Minister for Health Brendan Corish in 1974. The sod turning was performed by Fianna Fáil Minister for Health Charles Haughey in 1978.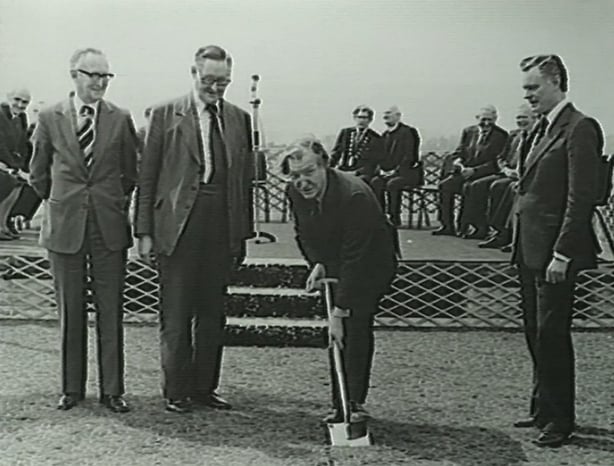 Charles Haughey turns the sod on Tralee Hospital (1978)
In 1980, Minister for Social Welfare Dr Michael Woods topped off the building. The first patients were welcomed in April 1984 by Minister for Health Barry Desmond and Tánaiste Dick Spring. It was then that another row broke out when the Fianna Fáil nominated Health Board refused to allow Dick Spring to officially open the hospital last June just before the local elections. The already made commemorative plaque had to be put away. Tralee Hospital was finally officially opened today by Barry Desmond with no local advantage for politicians.
John Dennehy Chairman of the Regional Health Board comments on the high cost of the hospital. He points to additional services and inflation as the reason for the increase in costs.
When fully operational the new hospital will provide 425 beds. At present funds are only available to cover 300 beds which means parts of the hospital will remain closed.
The hospital does bring medical services in Kerry to a new high.
The new Tralee Hospital replaces the old St Catherine's Hospital situated across the road.
An RTÉ News report broadcast on 6 August 1985. The reporter is Michael Ryan.