Ambitious plans for the future of the port of Dublin.
Dublin Port and Docks Board announce plans to develop new quays for shipping in the port. Over the next six or seven years, four million pounds is going to be invested in improving facilities in the area.
Paul O'Sullivan, Chief Engineer of the Port and Docks Boards, outlines some of the plans for the port and how a mud back will be changed into a boardwalk which will liven up the area providing over half a mile of additional quayside to facilitate expansion of continental shipping trade.
Two million tonnes of filling dredged from Dublin bay and harbour will be used to create acres of new land.
This is the blueprint of the Dublin Port of the future.
The development will also involve the creation of a new coal hold handling zone and the construction of a new ESB power station beyond the Pigeon House. There are also plans for a new jetty at Alexander Quay. The overall immediate plan involves doubling the capacity of the port. Long term plans for the port over the next fifty years will involve the development of industrial estates on both sides of the river.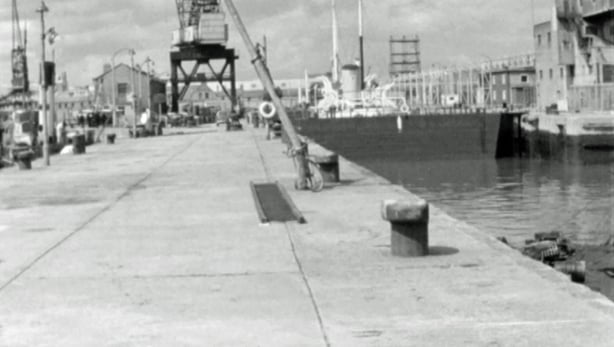 Dublin Port (1965)
Manager of the Dublin Port and Docks Board Mr Hegarty outlines proposals for the zoning of coal and other bulk commodities. He says that the advantages will be the economies of scale derived from investment in the handling of bulk commodities. He also outlines short and long term plans for land reclamation.
A 'Newsbeat' report broadcast on 1 May 1965. The reporter is Dermot Mullane.