A look at how ports, big and small, shaped the economy, society and life of Ireland.
The Irish coast has over 70 ports ranging from small quays in the west of Ireland to the industrial ports of Dublin and Belfast on the east coast. The recent introduction of new forms of cargo transport such as container shipping, have changed the way Irish ports operate.
David Timlin looks at how Irish ports are changing with the introduction of new technology and shipping methods.
This episode of 'Irish Landscape' was broadcast on 23 January 1969. The presenter is David Timlin.
'Irish Landscape' was a series which aimed to promote a keener awareness of the many factors which have shaped the landscape of Irish society. The first episode of 'Irish landscape' was broadcast on 31 October, 1968. The series was introduced and presented by David Timlin.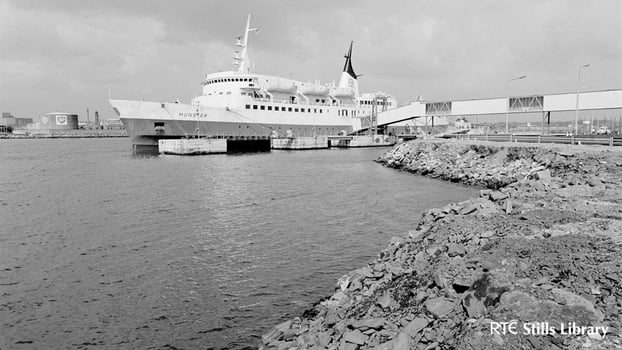 The 'Munster' Ferry in Dublin Port (1969)