Ireland's largest cities and towns are ports vital to the trade and transport of an island.
Irish ports are important links with the rest of the world and essential to international trade and travel. The development of these ports through reclamation of slob lands has had a dramatic impact on the Irish landscape.
To an island people, their main link with the rest of the world is their ports. Ireland has over 70 ports, ranging from the tiny quay in the west to the industrial might of Belfast and Dublin.
RTÉ Guide, 17 January 1969

Ireland is dependent on international trade through the many ports which have developed around the largest cities and towns.
Especially for an island, ports are indispensable.
Belfast, famous for its ship manufacturing, is the largest and busiest port in Ireland, handling around six and a half million tonnes of goods each year and accounting for two thirds of Northern Ireland's trade. Dublin port handles just under five million tonnes of goods, Cork handles three and a half million tonnes, and Larne handles just over a million tonnes.
Most Irish ports import more than they export in terms of weight and value. This excess is made up by the many tourists who travel through the ports and spend money on their travels.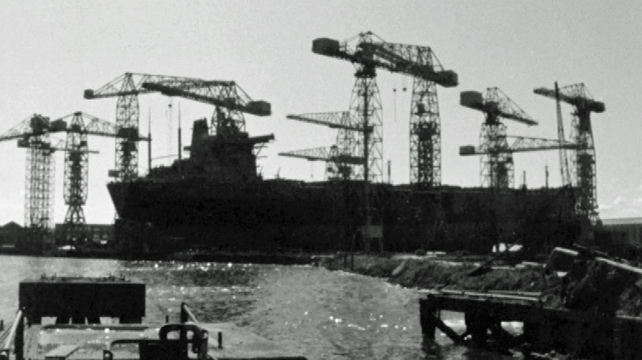 Queen's Island, Belfast Shipyard (1969)
The two largest ports on the island of Ireland, Belfast and Dublin, offer challenges to development with wide sandy bays and estuaries. However, reclamation has taken place in the port areas. About 1,700 acres of land has now been reclaimed forming Queen's Island in Belfast which is home of the shipyard. Dublin also reclaimed about 180 acres of land from the bay to facilitate the expansion of port facilities.
Virtually everything that can be seen in the modern port is built on land once under the sea.
This episode of 'Irish Landscape' was broadcast on 23 January 1969. The presenter is David Timlin.
'Irish Landscape' was a series exploring the many factors contributing to the landscape in which we live.