Trendy priests and fun loving nuns make the annual pilgrimage to Inis Mór for the fourth Ted Fest celebrating the television series 'Father Ted'.
Launched in 2007, Ted Fest organisers Peter Phillips and Fergal McGrath wanted to create a 'Father Ted' tribute festival that was the opposite of the usual television convention format.
We wanted to create the whole dream that is Craggy Island.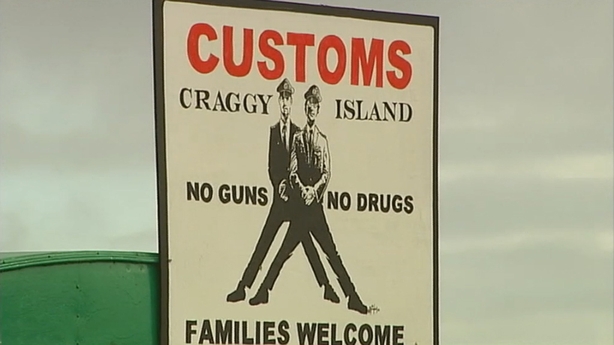 The fourth year of the festival includes as a 10 foot high winged angel sculpture of Mrs Doyle, decorated by the actress Pauline McGlynn.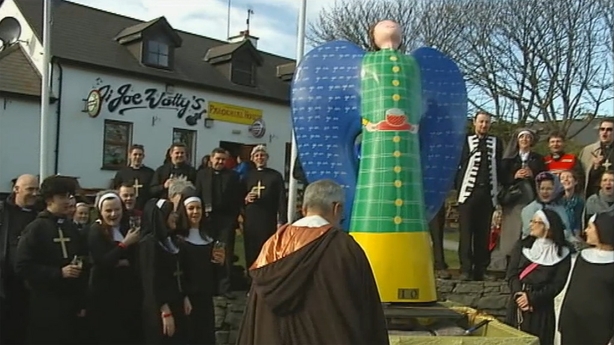 During the weekend of mayhem, fans dress up as priests, nuns or characters from the series including Mrs Doyle, Pat Mustard and and Eoin McLove. A Father Dougal lookalike from Edinburgh in Scotland is an annual Ted Fest attendee.
It's just the best weekend ever it's just the most surreal thing to happen and you just could not really have a better weekend.
A nun from Galway is a massive 'Father Ted' fan,
Everything is just funny in it and it really kind of shows what the Irish Catholic Church is like sometimes.
A Californian tourist who is visiting Inis Mór to do some hiking is amused to find herself on Craggy Island.
I feel quite inadequate.
For the duration of Ted Fest, Watty's Pub on Inis Mór becomes Craggy Island's Parochial House. For Grace Watty, Ted Fest signifies the end of winter and she looks forward to the festival,
The more the merrier we just go with it and keep making the tea.
Ted Fest brings a welcome boost to the local economy and as accommodation is limited to 250, Ted Fest will always be a small fun festival.
This episode of 'Nationwide' was broadcast on 3 March 2010. The reporter is Joan O'Sullivan.