Dermot Morgan mimics boxer Barry McGuigan on Ian Dempsey's 'Golden Hour'.
This programme was broadcast on RTÉ Radio Two during the last week of December 1985. Morgan also released a number one hit single, 'Thank You Very Much, Mr Eastwood' (1986), written as a tribute from boxer Barry McGuigan to his manager, Barney Eastwood.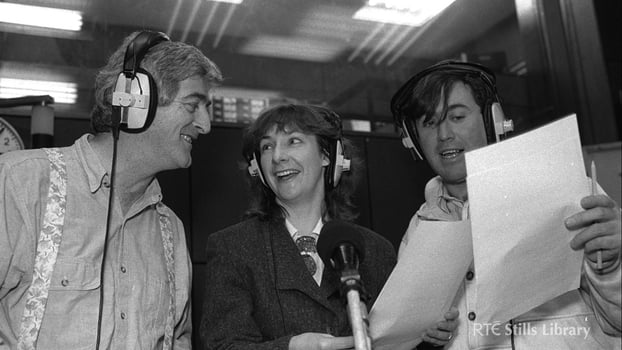 Dermot Morgan, Pauline McLynn and Gerry Stembridge recording RTÉ Radio 1's 'Scrap Saturday' (1990)
Best known for his TV role as Father Ted, Dermot Morgan had a long career in both radio and television. On radio he is best remembered for his Saturday morning comedy show 'Scrap Saturday', which he co-wrote with Gerard Stembridge and co-starred Pauline McLynn and Owen Roe, taking a satirical look at Irish politics.
Morgan established himself playing the role of Father Trendy on our TV screens on the hugely popular show 'The Live Mike' hosted by Mike Murphy. However, Morgan is best known and loved for his role as Father Ted Crilly in the legendary Channel 4 sitcom, Father Ted.
Dermot Morgan passed away the day after finishing filming on the third and final series of 'Father Ted'.