Writer, actor and comedian Dermot Morgan was a guest on The Late Late Show where he spoke to host Gay Byrne about the success of 'Scrap Saturday'.
In his introduction Gay Byrne describes Scrap Saturday as
The smasheroo of the season
On the success of the show Dermot Morgan says he is
As happy as a pig in shit
Dermot also talks about the craft of writing, the size of the Irish audience and his co-writer Gerry Stembridge.
'Scrap Saturday' was a satirical radio sketch show written by Dermot Morgan and Gerry Stembridge. The programme was broadcast on RTÉ Radio 1 on Saturday mornings from 1989 to 1991.
This episode of The Late Late Show was broadcast on 1 February 1991. The presenter is Gay Byrne.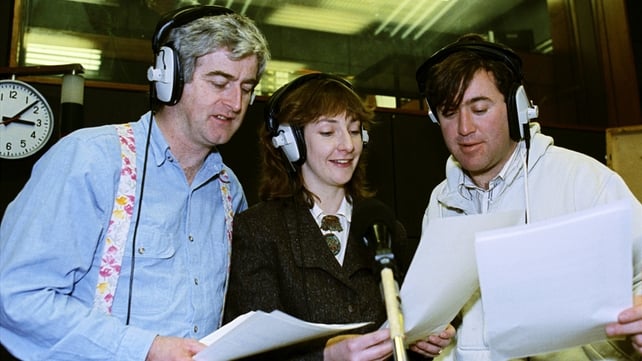 Dermot Morgan, Pauline McLynn and Gerry Stembridge recording 'Scrap Saturday' in 1990


Feature on the return of Scrap Saturday appeared in the RTÉ Guide on 18 October 1991