Dermot Morgan in Bill McLaren mode looks at a particular species of the game of rugby union, the prop forward.
In this sketch for 'The Live Mike', Dermot Morgan posing as the presenter of a wildlife show 'Zoo Time' investigates how to train a particularly difficult breed of wild animal, the rugby union prop forward.
Barry, the prop forward is played by Fran Dempsey,
A particularly fine example of the species, he's fully mature at 33 caps.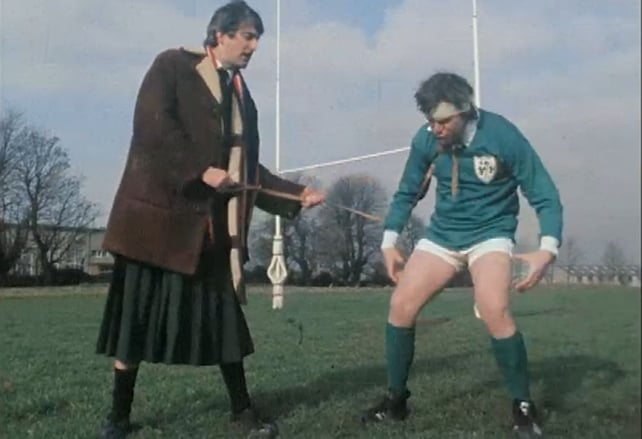 Morgan points out the physical features that make Barry such a fine specimen. These include a jutting jaw, a mallet head and
A high forward which he has toughened up by banging his head of a wall in training over a number of years.
To become a proven thoroughbred prop forward, Barry has to be put through a series of difficult tests, including the wall test, the door test and the corridor run.
Finally a copy of 'Einstein's Theory of Relativity' is used to check against any latent intelligence. Barry grasps the book and kicks it straight between the posts.
This episode of 'The Live Mike' was broadcast on 19 March 1982.