Irish language speakers make a pilgrimage to Saint Brigid's Shrine in Faughart, County Louth.
Saint Brigid was reputedly born in the fifth century at Faughart, County Louth, the daughter of a pagan chieftain of Leinster and a Christian slave. A generous young woman who consistently helped those in need, she became a nun and became renowned for her kindness, hospitality and charity towards the poor.
One of the patron saints of Ireland along with Saint Patrick and Saint Colmcille, she is associated with the household, dairying, and healing. Known also as 'Muire na nGael' (Mary of the Gaels), she founded a monastery and school of art in Kildare. Many churches and holy wells throughout Ireland bear her name.
Irish speakers from all parts of the island gathered to take part in a pilgrimage to her shrine in Faughart in County Louth.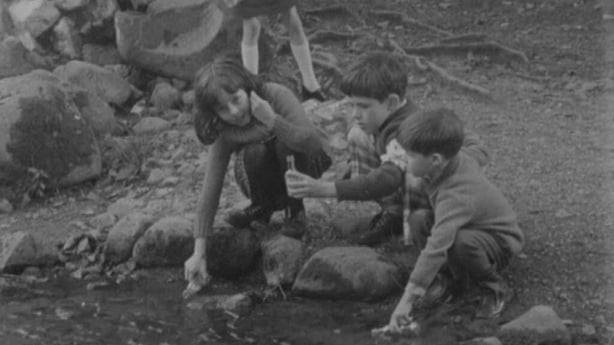 Children filling holy water bottles, St Brigid's Shrine (1974)
The Stations of the Cross, the Rosary, pilgrimage prayers and Benediction were conducted entirely in Irish and Canon McCague Colleary preached a special sermon.
Pilgrims also attended a special Mass in St Brigid's Church Kilcurry, which was followed by a get together at Áras na Gaeilge in Dundalk.
An RTÉ News report broadcast on 9 September 1974. The reporter is Dermot Mullane.