A journey in the footsteps of Colm Cille as he is remembered in the traditions of the people.
The well of St Colmcille on the Ballycullen / Oldcourt Road near Orlagh College in south Dublin is popular visiting spot. It is believed that Colmcille stopped off here on one of his journeys around Ireland to quench his thirst and bless the well. The surrounding parish is subsequently named after Colmcille.
The holy well has a statue of Colmcille set into stone niche with paving around a water garden and a small bridge approaching the shine. Visitors to the well drink from the water pray and leave medals nailed into the bark of a tree as offerings. Rags left by previous pilgrims visiting the well are to provide cures for eyes ears and throats.
Súil, Cluas agus Scornaí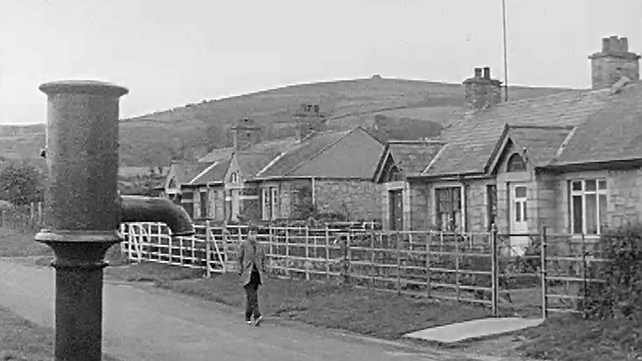 Killakee Mountain (1962)
In 1962, Aindréas Ó Gallchóir retraced the Irish steps of Colmcille in the Telefís Éireann programme 'I Remember Colmcille', billed in Irish as 'Tá Cuimhne ar Cholm Cille'.
'I Remember Colmcille' was first broadcast on 23 December 1962.