The Crolly doll is being manufactured in the Donegal Gaeltacht again and a new range is sparking worldwide interest.
The original Crolly Doll factory opened in Gweedore in 1939 and was renowned for its excellence in toy making. The dolls took their name from the nearby town of Crolly where the local post office was the main point of export for the business. However with increasing competition from the Far East, the factory closed in the 1970s. Now 18 years later Crolly dolls are being manufactured again.
The brand name Crolly has stood the test of time and brings back fond memories for many.
When Bob and Iris Shields lived in Canada people often asked them what happened to the old Crolly Dolls and they realised there was still a lot of interest in the toy. They explored the idea of reviving the business and as a result set up the company Babógaí Croichshlí Teoranta to manufacture and market the dolls.
There are three play dolls in the new range, Catriona, Kelly and Carol. Catriona is the nearest in size to the originally Crolly doll.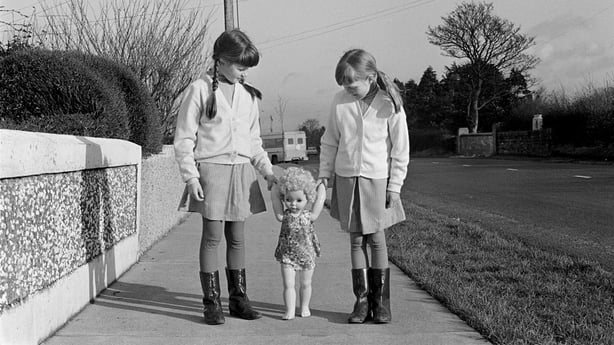 Mary and Christine Gaffney play with a Crolly Doll in Dublin, 1968.
Bob Shields says the dolls are available in shops all over Ireland, in the United States as well as in Japan and Europe. The dolls are being marketed as gifts, collectables and durable play dolls.
In their showrooms in Crolly, Babógaí Croichshlí Teoranta also sell dresses, shoes and socks for the original Crolly Dolls. Iris Shields says
Everybody has one somewhere in the attic or in a cupboard somewhere.
The Crolly Doll revival brings hopes of more jobs to the Donegal Gaeltacht area. The company employ six people but plans to expand to ten staff.
Bob Shields is hoping the dolls will prove popular in the run up to Christmas.
Hopefully Santa is going to be good to us.
An RTÉ News report broadcast on 1 November 1994. The reporter is Eileen Magnier.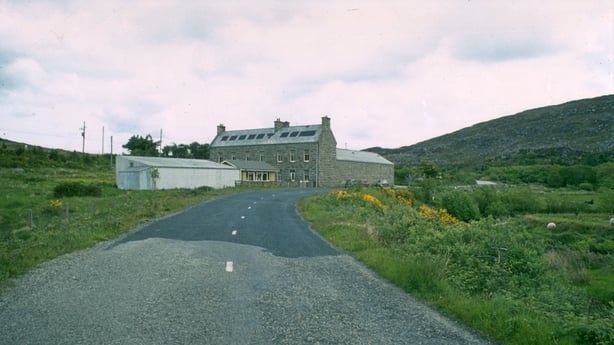 The Crolly Doll factory in County Donegal, 1974.