Emigrants returning home to Gweedore are now building houses and enrolling their children in the Gaeltacht school.
Pobal reporter Pádraigín Ní Uallacháin travels to Gweedore County Donegal to where a revitalisation of the area is taking place. The Gaeltarra Industrial Estate Derrybeg now employs 450 people in five factories. Another factory is about to open. 100 men and women are employed in the Snáth Comer factory which manufactures thread. All but two of the employees are locals most have spent time working in Scotland.

Proinsias Ó Maonaigh Vice Principal Scoil Adhamhnain talks about the skilled emigrants who are returning from abroad with children and are building houses and futures in the area. The children have no difficulty learning through Irish although half of them were born abroad. Pádraigín Ní Uallacháin speaks to 3 pupils Aine, Aingeal and Peadar born in Brooklyn, Glasgow and Coventry.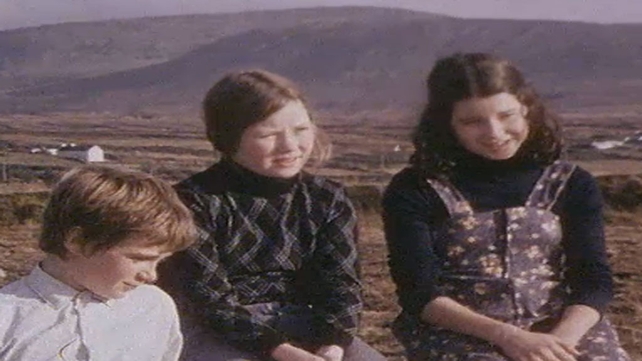 Gweedore (1976)
Máire Bean Mhic Pháidín left Gweedore for Glasgow at the age of 17. She wanted to rear her children in the area and in a Gaeltacht and is delighted with the changes in the area. Proinsias Ó Maonaigh thinks the future is bright for the children of the area and that the era of emigration is over. Previously unless pupils got scholarships to secondary schools, they emigrated . Now pupils are interested in secondary school and learning trades.
'Pobal' was an Irish language programme, covering issues from all over Ireland, except for politics. According to a preview published in the RTÉ Guide on 24 September 1976, 'Pobal' would deal with "Gach uile ghné de shaol na muintire, ach amháin an pholaitíocht, náisiúnta ná áitiúil. Beidh greann ann agus beidh ceol ann agus beidh míreanna eolais ann." 'Pobal' also took a particular interest in the arts. It was presented by Breandán Ó hÉithir and went out on Saturday nights. It ran for one season from 2 October 1976, until it was amalgamated with 'Next Stop' and 'Spot On' to create 'PM' in Autumn 1977.
This episode of 'Pobal' presented by Pádraigín Ní Uallacháin was broadcast on 6 November 1976.