A Dolls' Hospital and Teddy Bear Clinic has just opened on South Great George's Street in Dublin.
Barbara McMahon visits the Dolls' Hospital in Dublin for 'Head To Toe'. The Dolls' Hospital and Teddy Bear Clinic was reopened in Dublin city centre in 1989 by Melissa Nolan.
Teddies, dolls and many other toys are meticulously repaired and restored to their former glory.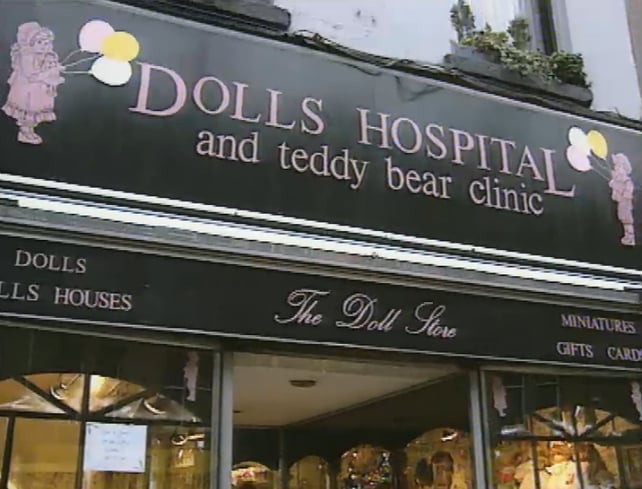 Dolls Hospital Dublin (1992)
Barbara meets some of the customers who have availed of the services on offer at the hospital.
Not only does Melissa Nolan carry out repairs she also provides a made to measure dressmaking service and offers a range of ready-to-wear styles to choose from. A range of accessories has everything needed to furnish a doll's house.
But even the intensive care unit of the hospital can't work miracles for some patients and where the illness proves to be fatal, the nearest relatives are of course devastated.
It seems from Melissa's customers that dolls are not just for children and many adults are enthusiastic collectors. Melissa's handmade dolls are regarded as collector's items but can cost anything up to £600. Some of the dolls which are left in for repair are of priceless, sentimental value. Melissa shows dolls belonging to entertainer Adele King, also known as Twink, which have all been lovingly restored.
Another young collector named Ashley has sixty-six dolls in her collection. She also has a most unusual doll, a Victorian type doll with three faces which can be changed by rotating her head. The doll takes about six weeks to make and costs around £150.
This episode of 'Head to Toe' was broadcast on 3 March 1992. The reporter is Barbara McMahon.