'Down Memory Lane: Childhood in the 1950s' an exhibition of toys, photographs and other items from the Irish Folklife Collection of the National Museum of Ireland are on display at Collins Barracks in Dublin.
The exhibition tells a story of innocence and hardship in the Ireland of the 1950s, with favourite toys such as ludo, dominoes, spinning tops, catapults, whistles and Meccano model kits on view.
Exhibition curator Clodagh Doyle found it difficult to source photography of children indoors from the period as flash photography was expensive at the time. One photograph featured in the exhibition features Bríd Hughes wearing her communion dress that came all the way from America.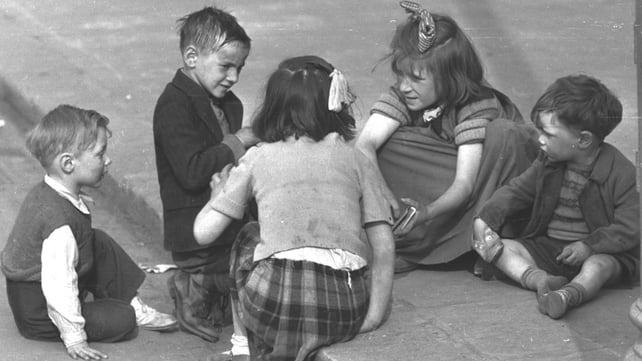 1950s Children Playing Cards, Nevill Johnson Exhibition
Dr Patrick Wallace, Director of the National Museum of Ireland says the toys in the exhibition are classless
They relate to children of all ages, all grades of income and poverty, rural and urban, they refer to everybody.
An RTÉ News report by Niamh Nolan broadcast on 10 August 2006.