How Irish society mixed religious devotion and rampant drinking leading to violent faction fighting in the eighteenth and nineteenth centuries.
Telefís Scoile looks at the often excessive and widespread consumption of alcohol across all social classes in the Ireland of the eighteenth and nineteenth centuries. Inexpensive beer and whiskey were readily available, but many preferred to distil their own poteen (poitín in Irish).
Ironically the establishment of the Royal Irish Constabulary (RIC) in 1822 and the temperance campaign by Capuchin priest Father Theobald Matthew in 1838 caused a drop in the standards of poteen making.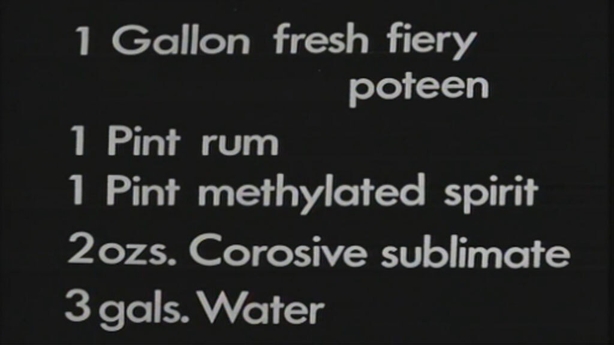 Fair days were one of the major events people looked forward to in the nineteenth century. People came to buy and sell animals, and to shop at the stalls. There were also dedicated booths or tents set up for drinking, and faction fights almost inevitably ensued.
Partly the results of ongoing feuds between families and a crude form of settling grudges, faction fighters of renown were held in awe by many. The fight began with an act of public provocation,
One faction trailed a coat along the ground, and challenged the other to step on its tail.
The favoured weapon was a good thick stick, either of blackthorn or oak, rendered unbreakable by wrapping it in brown paper which had been steeped in pig fat, and then buried in a dunghill for a time. Once ready, it was rubbed with black lead and then reinforced further by pouring molten lead was poured through a hole in its head.
The women did not all stand idly by during the faction fights, as they were free to join in too. Those who did used a stone in a stocking to inflict injuries.
The high level of regard and reverence held by Irish Catholics for their religion meant that,
If there was one man who could stop a faction fight, it was the priest.
The Penal Laws, which regulated Roman Catholics and the practice of their religion in Ireland, meant that Sunday Mass was celebrated in secret outdoor locations, with makeshift altars.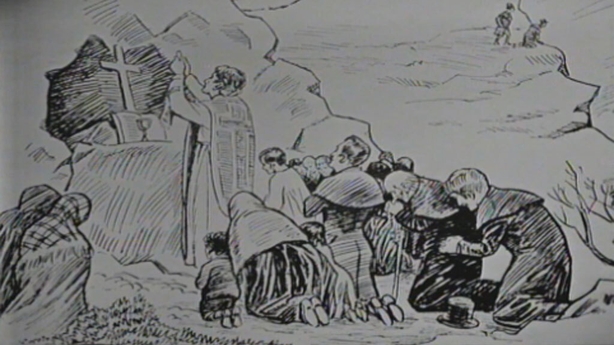 Mass being celebrated during the era of the Penal Laws in Ireland.
Pilgrimages also continued to take place during the suppression of the Catholic faith, either to sites associated with saints, or to holy wells. These were known as 'pattern days' or 'stations' and were also major social events when in the local community's calendar,
When the devotions were completed, they flocked to enjoy the fun of the fair.
This episode of 'Telefís Scoile' was broadcast on 9 October 1969. The presenter is Brendan Scott.
'Telefís Scoile' was an educational television programme that gave school lessons in maths, science and literature. It was first broadcast on 4 February 1964 and continued throughout the 1960s and 1970s.