Being a good neighbour in Derry is at the heart of a campaign for peace in Northern Ireland.
The Derry Junior Chamber of Commerce has launched 'Progress Through Peace : I'm Backing My Neighbour'. The campaign is supported by both Protestant and Catholic businessmen.
Many youth organisations are involved in the movement, and today young people have been distributing potted plants to the older residents of Derry city as a gesture of peace.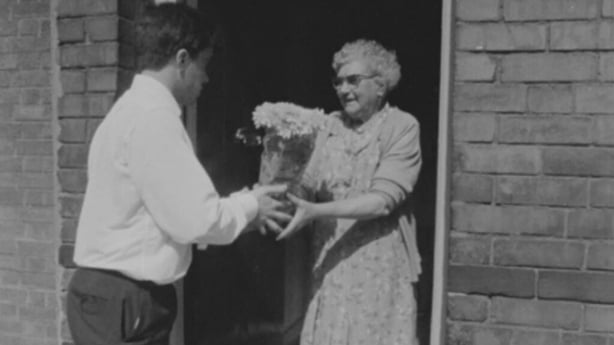 Young man distributes house plant to pensioner, Derry (1969)
It is estimated that the current unrest in Northern Ireland has cost businesses in Derry almost half a million pounds. Many traders in the city are boarding up their shop fronts in advance of the Apprentice Boys march which is due to take place on 12 August.
An RTÉ News report broadcast on 9 August 1969. The report shown here is without sound.