On 27 August 1968 over one hundred demonstrators protested against housing conditions at Londonderry Corporation's monthly meeting by occupying the Guildhall chamber.
The protest was led by members of the Derry Housing Action Committee (DHAC) and Ivan Cooper of the Labour Party. Activists from the DHAC had been disrupting corporation debates for some time. After verbal exchanges between councillors and the protest leaders, the police cleared the gallery.
This demonstration followed the Caledon protest in June 1968 and the first civil rights march from Coalisland to Dungannon on 25 August.
An RTÉ News report broadcast on 27 August 1968. The footage shown here is mute.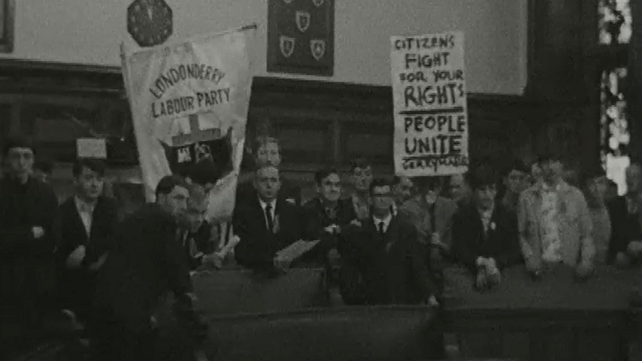 Protesters at Guildhall, Derry, 27 August 1968.