Division over the marking of the 20th anniversary of the first civil rights march in Northern Ireland.
On 24 August 1968, a march from Coalisland to Dungannon in County Tyrone took place in protest at housing allocation, an issue central to the reforms demanded by the Northern Ireland Civil Rights Association.
About 800 people took part in 20th anniversary Civil Rights March from Coalisland to Dungannon. The main speakers at the rally held in Dungannon's Market Square were former Westminster MP, Bernadette McAliskey who was at the original march, as was another speaker Michael Farrell.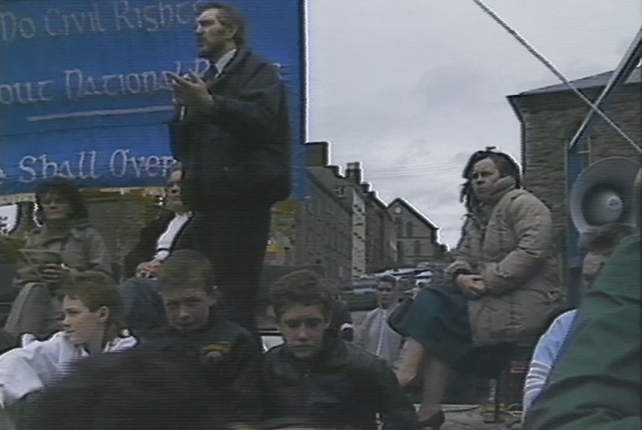 Other speakers included former Former Fianna Fail Minister for Local Government Kevin Boland and Sinn Féin president, Gerry Adams.
Many of the participants in the first march stayed away. Austin Currie of the Social Democratic and Labour Party (SDLP) one of the organisers of the original march, congratulated the local people on what he called the good sense to ignore the attempt to rewrite the history of 20 years ago.
An RTÉ News report broadcast on 4 September 1988. The reporter is Poilín Ní Chiaráin.