Slane Castle hosts an open day and Blackrock in Dublin is the venue for the 'Lark in the Park'.
While there are no visible signs of the recent violence at Slane, locals say they never want a rock concert held in the castle grounds again.
The Slane Tidy Towns Committee is holding an open day at Slane Castle to raise funds for AnCO Youth Employment Training Scheme. All of the monies raised will support improvements needed in and around the village of Slane.
Vice Chairperson of the Community Council Ann Redhouse denies the open day was a compromise to allow the concert at Slane to go ahead. She says it was landowner, Lord Henry Mountcharles' idea to raise funds for the Tidy Towns committee.
Nobody wanted what happened last Saturday, least of all Lord Mountcharles.
She hopes the open day will help heal the rift between the Community Council and Lord Mountcharles. A sum of money will be donated by the concert promoters to help prepare Slane for the Tidy Towns competition.
Meanwhile in Dublin over 5,000 people attend the 'Lark in the Park', a free concert organised jointly by RTÉ Radio 2 and In Dublin Magazine, held in Blackrock Park.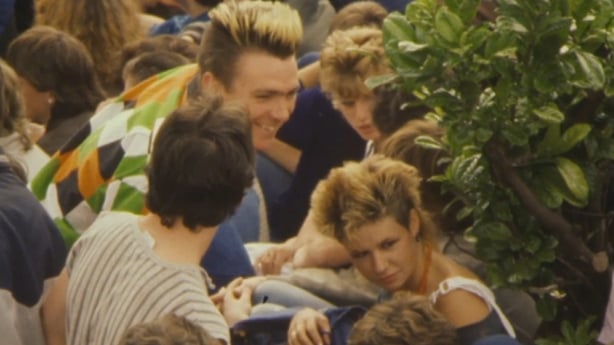 The line-up features The Fountainhead, Stockton's Wing, Those Handsome Devils and The Business. In stark contrast to the Bob Dylan concert at Slane, the atmosphere at this concert is peaceful.
An RTÉ News report broadcast on 15 July 1984. The reporter is Mary Fanning.