Following the violence in Slane over the weekend, local shopkeepers and businesses are counting the cost.
On Saturday night, the night before Bob Dylan's performance, riots took place on the streets of Slane causing mayhem and damage in the town.
As the last of the Bob Dylan fans left the Meath village, the clean up continued.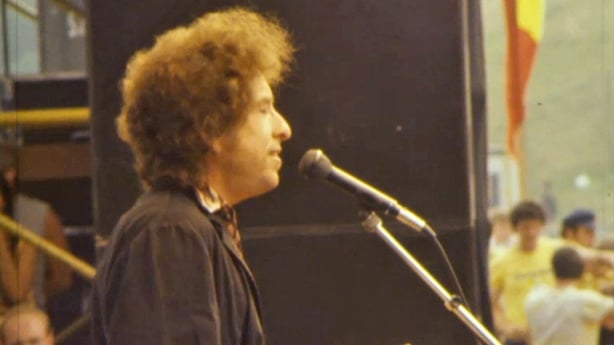 Bob Dylan at Slane (1984)
It is ironic that Bob Dylan, the man of peace, should have brought such violence to Slane.
The local Garda station and other buildings still bear the scars of Saturday night's disturbances.
Owner of Slane Castle, where the concert was held, Lord Henry Mountcharles reflects on what happened.
What was effectively a very successful concert has had this dark shadow cast over it because of what happened in the village of Slane.
The violence that occurred undermines the feasibility of running events like and Lord Mountcharles has yet to decide if concerts will be held at at Slane Castle in future.
Many local residents have already decided there'll be no future concerts in Slane.
Pearl Baxter of Slane Community Council is sickened by what occurred in her village and is adamant that no more concerts will be held in the village.
An RTÉ News report broadcast on 9 July 1984. The reporter is Alan McCullough.