Introducing the world to the touch screen personal computer launching the Hewlett-Packard HP-150.
A keyboard is not required for the Hewlett-Packard HP-150. Users input commands, move information around or call up a series of programs by simply touching the screen with a finger or pencil. Hewlett-Packard say this is the first personal computer to feature a touch sensitive screen.
Up to now, computer users have needed keyboard skills and the ability to use complicated computer languages, but the HP-150 is the ultimate in friendly machines.
The touchscreen operates through infra red transmitters and receivers around the screen, which detect the position of anything on the screen.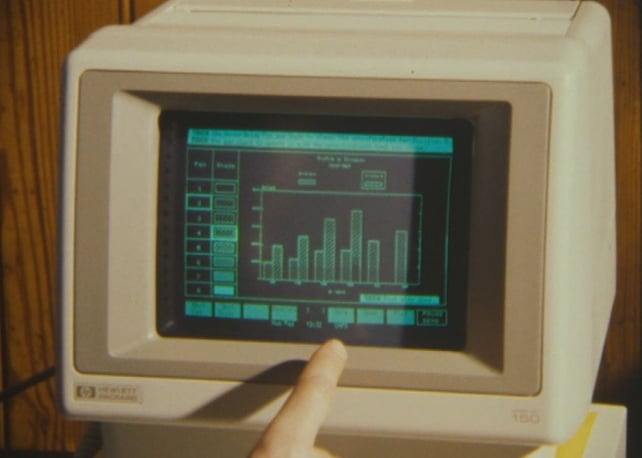 The HP-150 was launched at a reception in the Royal Dublin Society in Ballsbridge, where a 13% price reduction was announced for the computer, bringing its cost to £3,500 plus VAT.
Manager of Hewlett-Packard Ireland Limited Amos Clarke says the HP-150 comes with comes with standard business packages, graphics, word processing, a spell checker and games.
It is essentially directed at the business market.
He believes the next development in personal computers will be two-way voice communication which is already being developed in larger systems.
The next major breakthrough with communicating with the system which we have now done by using ones finger, will probably be a two-way voice communication system.
An RTÉ News report broadcast on 2 April 1984. The reporter is Kieron Wood.