Cognotech brings Irish business the latest information on exchange rates, the economy and the stock market on a computer.
Irish businesses will no longer be behind the door when it comes to keeping up with world market trends.
The information age has arrived for business people in the form of Cognotech, a computer system which relays up to date financial information on a desktop screen.
It's the dream of every business person.
Developed by Cognotech Business Systems Limited the service looks to provide relevant information to Irish companies additional to existing news services. At a cost of £2000 per annum, it is a worthwhile investment, says company representative Brian McCabe,
That's inclusive of all the equipment we're using, and unlimited access to all this range of information.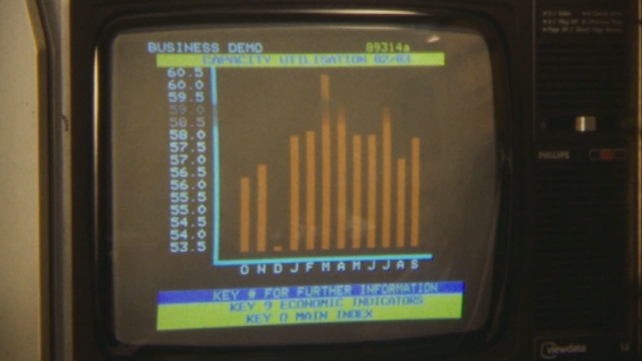 Business information displayed on computer screen (1983)
The system operates via telephone lines, and at present any business outside Dublin must pay extra for dialling outside of their region. Where is the incentive for companies in the other cities to use Cognotech? McCabe says that in twelve months' time the system will be available in the other cities.
We're developing a system that people in Cork, Limerick and Galway will be able to access the information on our system at a local telephone call rate.
An RTÉ News report broadcast on 6 December 1983. The reporter is Liam Cahill.