Watching television while at school provides a new way to learn with 'Telefís Scoile'.
For those secondary schools fortunate enough to have access to a television set, students will be treated every week to a new educational experience.
'Telefís Scoile' is a new series of educational television programmes for schools. Students studying physics at intermediate and advanced level will still be in the classroom, but can tune in twice a week to learn while watching television.
RTÉ News, visited a classroom as students watch the first 'Telefís Scoile' presented by Ben Sherry, 'Cad Is Fisic Ann?' (What Is Physics?). A graduate of UCD in Physics and Chemistry, he teaches in Clongowes Wood College, County Kildare.
The 'Telefís Scoile' spring term ran from the start of February to Easter, with the summer term running from April to May. Programmes were broadcast on Tuesday and Friday afternoons.
The RTV Guide cover photograph for January 31 1964, featured students Diarmuid Murphy [left] and Donal Merrion in the physics laboratory of the Christian Brothers College, at Oatlands, Mount Merrion, County Dublin. The photographer is Roy Bedell.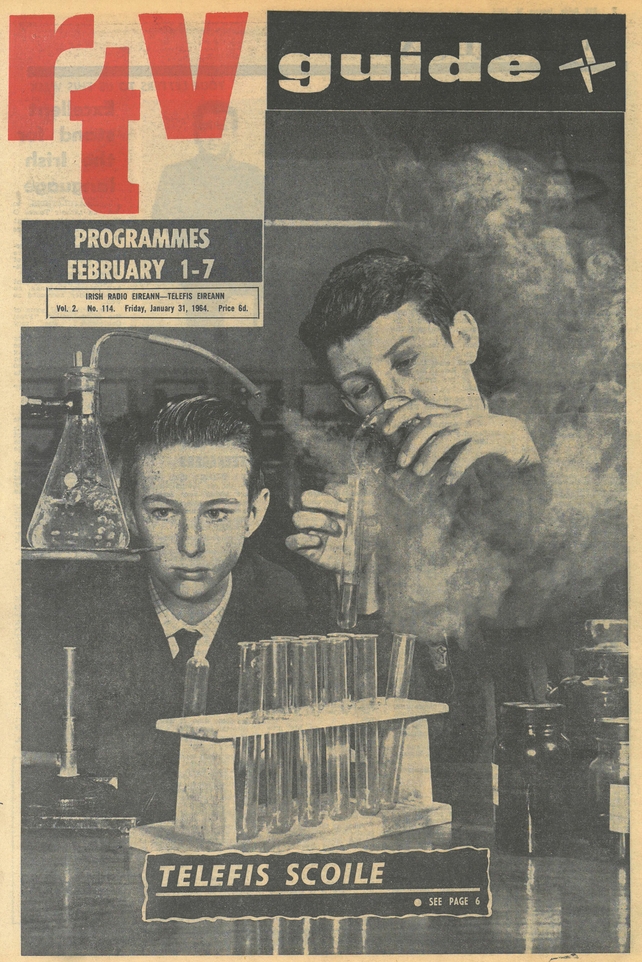 RTV Guide cover 31 January 1964
A brochure about the programmes had been distributed to science teachers around the country in advance, and an article promoting the series in the RTV Guide of 31 January 1964 also includes notes for students on what the programmes would be about.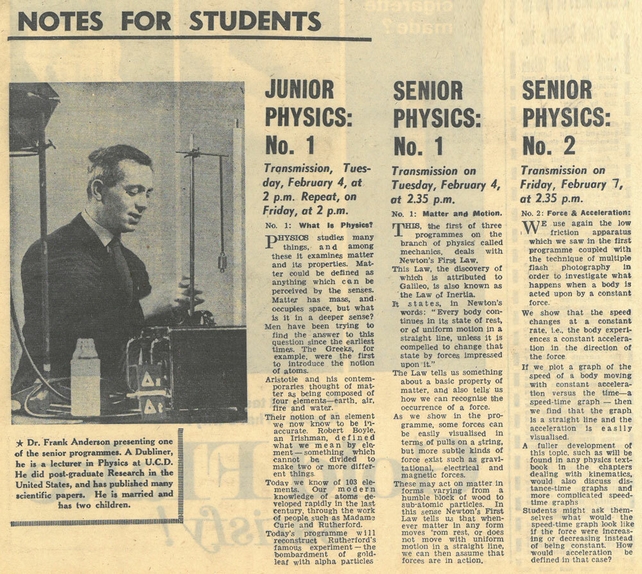 Notes for Students, RTV Guide 31 January 1964
The 'Telefís Scoile' series continued on into the 1970s, providing school lessons in maths, science and literature. Presenters included Frank Anderson, Cormac Ó Briain, Seamus Paircéar, Augustine Martin, David Langridge, Andy O'Mahony, Liam Mac Con Iomaire, James Duggan, James Plunkett, Brendan Scott, James O'Malley, Caoimhe Ní Ghogáin, Oilibhéar Ó Croiligh and Seamus Heaney.
An RTÉ News report broadcast on 4 February 1964. The footage shown here is mute.